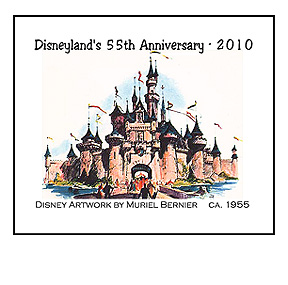 Disneyland is celebrating its 55th anniversary.  I'm commemorating it with an artistamp design featuring art by my mother, Muriel Joan Bernier (1919 – 2010).
The artwork at left, which was also on the Fantasyland board game, was my mother's art.  She freelanced for Disney in the 1950s, and I remember her drawing this.
My mom passed away earlier this year, and — I'm not sure why — she didn't want me to post her artwork online.  (My mother's always been eccentric.  Once she decides something, she rarely changes her mind.  Questioning her was pointless.)
This, however, gets around that.  The image was already online… just not credited to her.
So, here it is as an artistamp.  Ordinarily, I add my artistamp postal name — Ballynafae — and a postage amount (usually 3p) to make my artistamps look more stamp-like.  In this case, it didn't seem right, so I added the basic text and here it is, as-is.
You can download it as a stamp-sized image (PDF), either with a stamp-like edge (as a graphic), or as shown above.