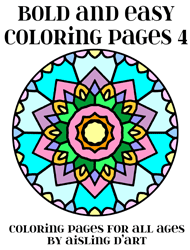 Okay, I'm enthusiastic about coloring books. And, I'll admit I've been carried away by the success of my "Bold and Easy Coloring Pages" series.
This series has wider lines that are easier to see if someone has a vision challenge. And, in most cases, the coloring areas are larger. That makes them easier to color by anyone with dexterity issues like arthritis or difficulty holding a coloring pencil, marker, or crazy.
(The cover at right shows the most complex coloring design in this book.)
They're ideal for special education teachers, seniors with some disabilities, and anyone who wants a book that's easier to see and has bigger areas to color.
But… last week, in my enthusiasm, I accidentally uploaded the wrong interior for "Bold and Easy Coloring Pages 4." And, besides having designs I hadn't planned to include in the final edition, one page actually had an error on it.
The word "embarrassed" doesn't begin to describe how I felt when I made the discovery.
Fortunately, I found it so quickly, only one person had bought the book. (The book now selling at Amazon is the correct one.)
If you're that one person who bought it, please contact me and tell me:  What country you purchased it in, when you bought it, and how much you paid.
In return, I'll send you an Amazon gift certificate so you can replace that book, and buy another one of my coloring books (or anything else you'd like to use the certificate for).
Meanwhile, here are two free pages from the corrected edition of Bold and Easy Coloring Pages 4. Download, color, and share them!
OOPS! The sample links aren't working, and I'm looking for the glitch. (I'm guessing that the latest WordPress update — the one I use for this site — doesn't play well with my sample-download software.)
While I'm debugging this issue, you can find more free downloads — including at least one from my "Bold and Easy" series at the Coloring Group website.
Here's what they look like: