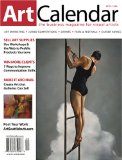 You can earn a living as an artist.  Really.
If you're not a happy, full-time artist earning at least a good living in art, here's the most important thing you can do:
Subscribe to Art Calendar.
Here's what I recently wrote in my Squidoo lens about Art Careers.
If you want to earn a living as an artist, there is one magazine you must subscribe to: Art Calendar.
I'm not kidding. You can't just stand at the magazine rack of the art store and browse it. You need to have your own issues as soon as they come out and read them. Then, re-read them.
The reason you want to read it is for art marketing advice, career tips, news about grants, gallery opportunities, fairs & festivals, and so on.
The reason you want to subscribe is so you get the magazine before it's on the newsstands. That way, when you apply for grants, fairs and festivals you're at the front of the line. That can make all the difference in the world.