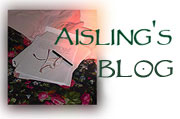 This is a time of year when I see so much beauty around me. I can only capture it in photos, because it's too hot outside–even in the early morning–to paint en plein air. But, I'm taking a bazillion photos to use for work in my studio. I take most of my photos in Bush Park (yes, that's its real name), which I drive through twice a day.
Here's the sunrise this morning:

[Sorry, images are missing temporarily, since moving this blog from Blogger.]
This afternoon, on the way home from taking HT to the bus stop, I stopped at the same parking area and took the next photo just a few feet away from the location, above.
That's a faerie ring in front of the tree… an almost perfect circle. It's huge. The smallest mushroom is about three inches across. I saw it from the road, about 40 feet away, and immediately pulled into the parking lot to take pictures.