Purchases made through my links help support this website, at no additional cost to you.  Details.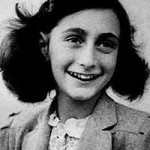 I didn't realize that the person who'd protected Anne Frank — and, later, her personal journal — had lived so long.
Anne Frank was an icon to many of us, and a shining example of the importance of diaries.  She helped a generation understand what had happened prior to and during World War II.  Instead of it being "something that happened in another country," there was a face and a life & dreams that we could identify with.
That was important.
From Levine Breaking News' headlines:
ANNE FRANK PROTECTOR DIES AT 100: Miep Gies, who ensured the diary of Anne Frank did not fall into the hands of Nazis after the teen's arrest, has died. She was 100. Gies was among a team of Dutch citizens who hid the Frank family of four and four others in a secret annex in Amsterdam, Netherlands, during World War II, according to her official Web site, which announced her death Monday. She worked as a secretary for Anne Frank's father, Otto, in the front side of the same Prinsengracht building.
As a child, I was tremendously inspired by Anne Frank's diary.
Many of us — and the journaling and historical communities, in general — owe Miep Gies a debt of gratitude.  What she did was courageous and tremendously forward-thinking.
Additional info & photos: Mail Online newspaper article