Aisling D'Art is a third-generation artist.  (Her name is pronounced "ASH-ling Dart.")
Since 1995, she's been online, sharing tips about making art.  Lots of art. Weird art, fun art, and highly original art.
She's most often associated with art zines, art shrines, artists' journals, ATCs and wild art dolls.
Yes, all of them. Really.
Bio
Aisling was born in Cambridge, Massachusetts and grew up in nearby Belmont, MA.  She attended Colby-Sawyer College (New London, NH) and then Harvard University.  From there, Aisling moved to Los Angeles, working as a fashion model when she wasn't running one of Hollywood's largest and most innovative fine art schools.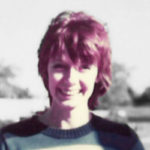 Several years (and moves) later, Aisling became the mother of three wonderful children.  During those years, she taught workshops and wrote several popular books about fabric art, dollmaking, costuming and quilting.
When divorce threatened Aisling's 'happily ever after' view of life, she began writing about her life at her first website.  That was in 1995, when Aisling was considered a little weird for sharing her real-life diary online.
The pen name, Aisling D'Art, gave her (and her family) anonymity.
But, Aisling's unique and original ideas have always attracted attention.  Before long, Aisling.net attracted hundreds (then thousands, and sometimes tens of thousands) of visitors daily.
Friends and fans followed Aisling's life through the inevitable divorce. Then, they cheered when she found genuine happiness with a wonderful man from Houston, Texas.
Today, Aisling and "HT" live a somewhat quiet life.  She's still working on art. She also writes articles for magazines, books, and the Internet.
In 2015, she added coloring books to her creative projects, and they've been great fun. So, her creative adventures continue!
About this website
This website began in the mid-1990s as Aisling's online journal. That was long before anyone used the word "blog."
When readers saw photos and scans of her art, they asked, "How do you do that?"
Over 20 years — mostly from 1995 to 2015 — a few how-to articles grew to hundreds of webpages about art materials and techniques.  Most were about homemade art and creative journaling.
But, as this site outgrew its simple HTML navigation, Aisling split the information into smaller sites.
In 2016, with new software and better navigation tools, Aisling began bringing those smaller sites back under this umbrella.
Until this site is complete, the best access point is the sitemap: https://aisling.net/sitemap/ [Link]
However, like much art, this is a messy project. Aisling (and her webmasters) appreciate your patience.
Aisling and Yahoo Groups
In the late 1990s, Aisling D'Art founded several Yahoo Groups. The largest was AJ2 (Artists Journals 2) with about 2000 members at its peak.  Its archives are still online, though that group is no longer active.
Aisling is also the moderator of the original Artists Journals group, aka "AJ," which — like many Yahoo Groups — isn't exactly active at the moment (June 2015).
(Yes, Ais started dozens more hugely successful Yahoo Groups.  They include WildArtDolls, AJ-marketing, and ExtremeArtJournals.  Most of them are now moderated by other talented artists.)
Aisling's Classes

For many years, Aisling taught at some of the country's top arts events, including Artfest, Art and Soul, Art Unraveled, and her own Disney World event, Celebrate Art!

Around 2004, Aisling quit the national events scene when it became profit-oriented and viciously competitive.
Instead, Ais taught free full-day workshops for five years (2003 – 2008), to spread the word about mixed media journaling.
Aisling's zines and products
For many people, Aisling D'Art's name is almost synonymous with art zines.  Aisling pioneered her quirky handwritten art zines in the mid-1970s.  She was one of the first to offer art zines on CD in 2001, and she was an "early adopter" of digital zines.
Today, her zines are published irregularly.  Past subscribers still receive copies, and new fans are able to download them — when they're available.
Since the 1970s, Aisling's decorated envelopes and cards — and her artistamps — have been an important part of the mailart scene.
Aisling was also one of the creators of torn-paper collage journals, which evolved into what were later called gluebooks.
Her whimsical pocket shrines are still collected by friends, fans and art enthusiasts.
Aisling's mixed-media and cloth dolls are generally zany and wildly popular.  Her paper art dolls were featured in Art Doll Quarterly's second issue.
Aisling's online diary
Aisling remains committed to her original online vision, sharing a creative life with friends and fans.   But, in some cases, social media replaced her sites for that purpose. You can read her past journals, online, among the pages of Aisling.net.