Purchases made through my links help support this website, at no additional cost to you.  Details.
"By the Light…" – a digital ATC for you to print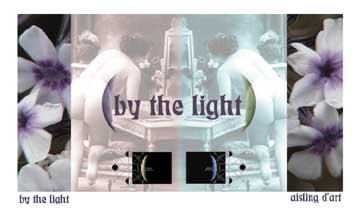 I was in a frivolous, mischievous mood today, and something just clicked for me when I saw this image of the moon. In other words, the visual puns are entirely deliberate.
I started with an image from the Bare Bottoms folder on my Shameless Hussies 1 CD. (Those images are copyright-free and in the public domain.)
Over this, I placed a new photo of the moon, from PDPhoto.org. I actually used that image twice on each panel: Once, small and exactly as it appears at PDPhoto.org; the second time I enlarged it to the size of the card and inverted the color in Adobe Photoshop.
On top of the darker moon image, I applied some text and imagery from an old Alchemy book that I own.
After flipping the image and altering the color, I added text in the Rudelsberg Regular font. Then, I filled in the background with a copyright-free flower image from PDPhoto.org, and altered the colors to match the card.
As usual, I retain the copyright on this ATC, but it's free to print for your own use, as long as you don't alter it.
To print your own copy, save this file to your hard drive and print it at 150 dpi. The finished card will be 3″ x 5″.