When I'm not working on art, I'm usually researching and writing books.  Well, that or baking bread or cookies… or indulging in a movie or a TV series like Downton Abbey. 
Anyway, as I was cruising through some Google+ communities I'm in, I saw a link to journaling as a way to build a book.  (Specifically, she's talking about a novel, but I'm sure this could be adapted to nonfiction, as well.)
If this idea interests you, the best place to start is here: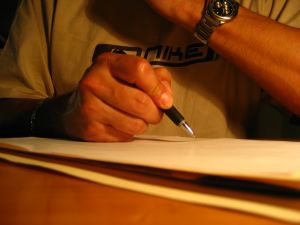 Creating a Story Bible: The Basics
"Writing a novel isn't easy. Tracking your world, your characters, and other important events can save you time and save you from plot holes before you even write them into existence." …click here to read more at that website.
I'm experimenting with writing-related software that will catalogue details similar to what she describes in that journaling approach.
However, there's something rich and juicy about using pen-and-paper as much as possible, when writing.
Oh, I'm still using my keyboard to compile my books.  The ease of working with voice recognition software — so I don't have to type anything, if I don't want to — is a time-saver and avoids ye olde carpal tunnel issues.
But, anyway, I'm always interested in diverse ways to use journals for creative purposes.  And, this might be a great starting point for a journal about an imaginary realm for artistamps.