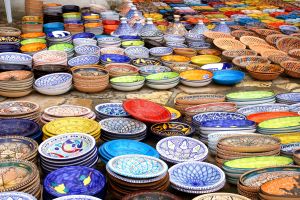 Are you selling art at eBay, or planning to?
(This article is from 2011. Some policies and business tips may have changed since then.)
First, see my article, eBay, Facebook and other artists' dilemmas.
If you decide it's worth selling art at eBay, despite their new rules, here's my best advice:
Keep in mind that eBay can enforce its rules at any moment, without warning.  If that happens, your account (and/or your bidders' accounts) could be closed.
If that's your only point of contact with people who buy and collect your art, you'd be back to Square One, rebuilding from (almost) scratch.
So, here's what I'd do if it was lucrative and convenient enough to try selling art at eBay.
0. Start with the basics when you're selling art at eBay.
Of course, have an "About Me" page at eBay and make it juicy with details about yourself and your art.  People are buying the energy as much as the art, so give them plenty of reasons to want your art more than anyone else's.
Add great (and big) photos of your art.  Include a photo of yourself.  Feature your artist's statement, and tell people why they should buy that particular work of art.
1. Have an art-related website.
No matter how successful you are at eBay, your friends, fans & collectors must be able to find you elsewhere online, easily.  I recommend a website with your own domain name (that is  your name) on it.  (See my article, How to Choose a Domain Name.)
If you use a free website, I recommend a Blogger site (in your name) or a WordPress.com site (in your name).  So, my site would be AislingDart.Wordpress.com or something like that.
(Do you need more than one website?  Probably not, when you're getting started.  However, when you're selling art at eBay or Etsy or anywhere else, you need more than just a MySpace page or a Facebook account.)
Some artists have one website that's specifically about their newest art, and one or more other websites that actually sell the art, or talk about personal news, or share how-to information for other artists, and so on.
(However, I tried splitting off topic-specific sites, and it reduced my name recognition in the art community.  That may not happen to you.)
At the very least, link to your art website from your "About Me" page at eBay.
2. Also link to your website from your auctions.
As I'm writing this, when you're selling art at Bay, they allow you to add a link within your auction description as long as you're not selling at that link.
The precise wording is:
"…your listing can't include links to: Websites where you can buy, sell, or trade items outside of eBay."
So, be careful about linking to a website where you're selling anything.  (This is one reason why you might have one website that shows the art, but another site — such as Etsy or Artspan — where you sell it.)
Be sure that your link leads to a page that features, according to eBay's rules:
"An item description, photos, or terms and conditions."
In other words, the page should provide:
More backstory to your art.
Details about the materials or techniques you used.
Additional photos of the work, etc.
If you do include a "buy this art" link on that page, make sure it links only back to the auction (or store) page where you're selling art at eBay.
3. Be sure they'll bookmark your website.
When you're selling art at eBay (or anywhere), it's not enough to just have a website.  When your friend, fan or potential customer arrives at your website, they should be dazzled.
Look at others' websites and see what you like (and don't like).  Here's a good article, as well: Dear Artist, Blog Like You Mean It.
Generally, your friends & fans should be so impressed, they bookmark your website and check back regularly, or add it to their RSS feed page.
For example, I regularly offer free, one-day downloads.  Usually, that's art in a print-quality JPG, but sometimes it's a free ebook, report, or… well, something cool and free.  It gives people a reason to check back regularly or follow me at Facebook, and tell their friends about your freebie of the day, too.
(Tip: If you get into massive bandwidth issues, Amazon's S3 file storage is easily the cheapest.  However, there is a learning curve in setting up your account there and adding files.
3. Know (and be nice to) your friends, fans and collectors.
When you're selling art at eBay (or anywhere else), maintain a list of people who've bought your art, contacted you there, etc.  Thank them and stay in touch with freebies, big or small.
If your art will be in a gallery or show, invite them to the opening, or a pre-opening art show in your studio.
Also know who's interested in your art, whether they've bought your art or not.  If someone comments at Facebook or Twitter (or especially reposts or retweets your art link), thank them and remember who they are. Treat them like valued friends, because that's what they are!
Be sure your website visitors have a way to stay current on your latest additions.  Don't rely on them to remember to visit your website.  (They probably won't.)
Keep an (email) mailing list to update people, or use a free automated service (as I do) such as Feedburner.com.
Consider sending out announcements and freebies regularly, via the post office.  (I'm increasing my activity with snail mail, aka postal mail.  Most people love to receive free art in the mail.  I highly recommend postcards from VistaPrint; that's where I buy mine. Watch for their regular sales, offering free postcards, business cards, etc.)
4. Selling your art is a marketing opportunity.
When you sell your artwork, be sure to give your customer an attractive brochure about your art, your creative process, and so on.
You could create a simple brochure and print it at home.  That's okay.  It doesn't have to be fancy.
However, just as Vistaprint offers great (and sometimes free) postcards and business cards, they also offer special deals on brochures.
Your brochure should show your picture, your logo (if you have one), your website URL, good photos of your art, your artist's statement, contact info, and… well, anything else you'd normally include with a press release or an application to be in a show.  (In fact, you may use these same brochures for those purposes, too.)
If you have some extra art postcards, sign one or two and add them to the shipment to your customer, too.
Just as your website should dazzle people, your shipments should, too.
5. Be ready with a Plan B.
Whether you're selling art at eBay or somewhere else, have a Plan B ready.  Even better, don't put all your eggs in one basket.
Online and offline, businesses change, galleries change their styles or move (or go out of business).
Web Bot (and a few scientists) suggest significant Internet interruptions, possibly due to solar flares, between late 2012 and mid-2013.  If you had no access to the Internet, or extremely sporadic Internet service, would you still be in business?
If you're already selling your art at multiple galleries, regular shows/fairs, and several websites, you'll be okay.
You don't have to go to extremes.  It's just a peace of mind issue, like locking your front door at night; once it's locked, you don't have to think about it again.
In other words, even if everything goes right (and I hope it does), selling art at eBay cannot be your only outlet.
With several ways to sell your art, and with each of them running smoothly, you can focus on what you do best: Create art!
Though I can't recommend selling art at eBay, these tips can help you use eBay as an effective springboard for greater success as an artist, online and off.
(Please leave comments below if you have questions or additional tips for selling art at eBay.)