Purchases made through my links help support this website, at no additional cost to you.  Details.
"Choose Your View" – a digital ATC (artist trading card) that you can print… free! Click on the image to download the printable version.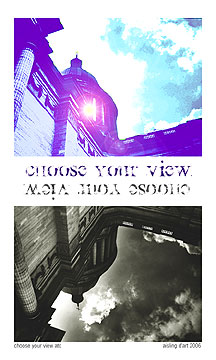 This ATC started out to be a Christmas/holiday-themed card. For some reason, I chose a rather dramatic photo of England. Maybe it was my frame of mind at that moment. I don't know.
Almost immediately, I realized it was an odd view for a holiday ATC. Creepier than I'd had in mind.
The words "Choose your view" came into my mind and became the theme for this card.
At that point, I started thinking about alternative views… literal and figurative.
So, I flipped the image and started working on it. This included isolating areas of the original photo, and adjusting the contrast before coloring each area individually and adding the lens flare.
The card probably looks like a simple pair of photos. And, it would have been a five-minute project if I'd started with the color version and just needed to desaturate it and adjust contrast.
But, when the card was complete, I liked what it said to me. I'm not sure that anyone else will realize the point (the message) that I'm making with this card, but that doesn't matter.
Choose the view that brings you joy. It's almost always the best one.