[Note: I  may earn a commission if you purchase something I've linked to.]
As you may have noticed, I've been on a coloring book binge, this past year.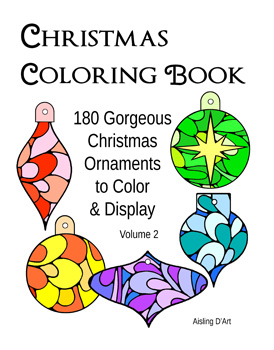 Christmas is no exception. So far, I've created two Christmas coloring books. They're filled with ornaments you can color, cut out, embellish, and display. Each is designed to hang on your tree, your Christmas wreath, or as part of a holiday mobile or something.
(Of course, if you celebrate holidays other than Christmas, these ornaments still work. The designs are entirely abstract.)
These Christmas coloring books start taking my coloring-ish books in a slightly new direction. I'm including more craftsy ideas in them.
These books include four pages of how-to ideas to do more with the ornaments… like fasten them to paper garlands. Or scan them, print them on fabric, and make quilted ornaments with them. (Or even use them as centerpieces for each square in a quilt.)
A preview of 2017…? Maybe.
For 2017, I'm starting to focus on different, creative projects. Things that take me back to my artsy-craftsy roots.
See… a few decades ago (it sounds SO weird to say that), I used to create monthly, full-page crafts pages for Lady's Circle magazine. Each of my pages would include a simple pattern for a creative project. And then… I'd go wild with lots of ideas to use that pattern in a variety of ways.
It all started when I created a simple teddy bear design, and turned him into a "no-sew" crafts project. It involved natural herbs that repelled moths, and teddy would become an ornament-sachet to hang in your closet.
He was a huge success. Lady's Circle readers responded with enthusiasm.
And… I kept creating designs (and myriad ideas for using them), month after month, until the magazine changed editorial direction, a couple of years later.
I loved creating those projects, and I think I want to get back to that for 2017. I'm still thinking about it.
In fact, I'm re-reading Amanda Palmer's book, "The Art of Asking," and Cory Doctorow's book "Information Doesn't Want to Be Free," to reconsider my business models.
My hippie impulses are kicking in again, hard. And, I'm looking at ways to make lots more treats available, free… while still being able to earn a living.
So, my websites may start looking very different in 2017.
Meanwhile, back at ye olde  Christmas drawing board…
I'm working on these Christmas ornament coloring books. The first two are in Amazon right now. (At least one more may follow, in the next week or so.)
Each book includes:
Over 180 unique, round ornaments in different sizes and styles. (I haven't counted, but I know the number is over 180, and I'm pretty sure it's over 200.)
All designs are printed on one side of the page. So, there's no bleed-through of ink… unless you're using really juicy markers, I suppose.
Every ornament is designed to color, cut out, and hang on your Christmas tree or wreath. (Or tape to your window. Or iron onto a tee shirt with the appropriate — or inappropriate — holiday greeting. Go ahead. Have fun with this.)
Also: Four pages of decorating and crafts ideas, to get the most from these ornaments. (That's what I referred to, earlier in this article. It's a "sneak preview" of what I'm considering for 2017.)
Bonus: Two Christmas wreaths to color and decorate. Cut 'em out. Tape them to your dorm or apartment door. Or to your cubicle. Instant Christmas spirit!
Plus: Additional pages of Christmas ornament coloring pages. Most started as experiments, as I designed my holiday books. (Some worked out better than others, but I figured all of them were good enough to share, anyway.)
And sample pages from a few of my other coloring books.
Both books are suited to family activities. I tested them with children as young as three years old, and with adults. Everyone enjoyed them.
So, you can color your ornaments now, and display them at your home or office.
OR, you can plan this as a family activity, during holiday get-togethers. (They're also ideal for classrooms and Scout meetings, "girls' night out" activities, etc.)
So far, Volumes 1 & 2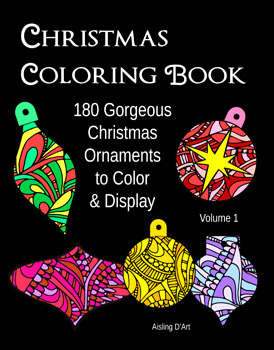 The coloring designs in Volume 1 (black background cover) are more ornate and detailed, but still in my usual "hippie style." If you liked 1960s art by Peter Max, and the designs in the Beatles' film, "Yellow Submarine," this is the book you'll want.
(Not sure? See the freebie sampler page, linked below.)
Volume 2 (white background cover) is more relaxed, and all the ornaments feature loops, swirls, and circle artwork. They're probably faster to color.
And, remember: My coloring books are priced super-low, and each books' copyrights include my formal okay to copy for personal use. So, go ahead and share these ornament pages with your students. Or your friends.
Links to buy at Amazon:
Here's a sampler of the ornaments in Volume 1: https://drive.google.com/file/d/0B8noedrX-LRwNGNBTm5FaVpscEk/view (That's a free download you can print.)
[Note: I  may earn a commission if you purchase something I've linked to.]