Purchases made through my links help support this website, at no additional cost to you.  Details.
Dangerous women, reaching for the stars… they were some of my earliest pindolls from one basic concept. I made them in 1998 and 1999.
My concept was this: Work with a simple, triangular design.  Create dolls that could be pinned to a curtain, or — for courageous people — worn on a lapel.
These are from the first batch of dolls.  Only three were made.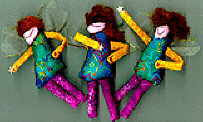 (That image is from my scanner.  Back then — before digital cameras were popular or even very practical — I scanned everything.)
Each doll is about 6 inches tall.  I made them for a swap.  If you own one of them, let me know!  I'd love to know where they live now.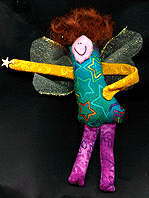 Above is a close-up of one of them. The other two had already escaped into their own fantasy world, and are probably plotting dangerously creative adventures.
Make your own dangerous women!
Click on the image for a FREE copy of the pattern