Purchases made through my links help support this website, at no additional cost to you.  Details.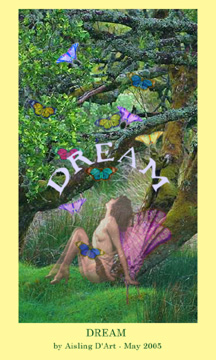 This ATC was created in an hour; that's the time I allowed myself for this project, each day. (I was trying to design and post one ATC, daily.)
I started with the background, which is a public domain photo of Ireland. (I've listed all of my resources, below.) Then I added a dramatic figure–slightly altered–from my Shameless Hussies 1 Clipart CD. (She is nude to the waist.)
After creating the text for the word, DREAM, I wanted to add a little more fantasy to the piece, so I started playing with some Dover butterflies.
I wanted a rich, faerie-like ATC, with a sense of wonder and magic. I was a little rushed, trying to complete this within an hour, but I'm pleased with the card as well as the challenge of this.
To print a full-size card at 150 pixels per inch, right click on this link and Save the image to your hard drive. Then, print it at 150 pixels/inch. The finished card should be 3″ x 5″, but you can reduce it down to 2.5″ x 3.5″.
This card is copyrighted, of course, but you can freely print it for your own non-commercial use, as long as you don't alter it.
RESOURCES
The figure is from my Shameless Hussies 1 CD, available at Cafe Press
The background is a public domain photo of Ireland from PDPhoto.org.
The butterflies were altered from some copyright-free Dover images.
The font in the image is Buccaneer (but I tweaked it, big time), and the title/artist lines are in Century Schoolbook.