[Note: I  may earn a commission if you purchase something I've linked to.]
STATUS: MOST OF THESE BOXES ARE (PROBABLY?) MISSING. See descriptions for individual status reports.
The following information is from years ago, when most of the boxes were still there.  I keep this online for those who did find these boxes, and want to remember where the stamp came from.
Seacoast NH
The NH Seacoast is the vicinity of Hampton and Portsmouth, NH. The edges blur between towns, so locals usually just call it "the Seacoast."
When I carved my first Seacoast-related letterbox stamps, I didn't realize that others had used that same name for their stamps and letterboxes, too.
However, a stamp is a stamp, so–when I planted them–some of mine bore the name "Seacoast."
Seacoast1 Letterbox

2018: STILL AT ITS ORIGINAL LOCATION

This box was planted in 2002, and — last reported in 2009 — I'm not sure if it's still on the trail.  The logbook has been replaced at least three times, but the box remains one of my most popular, ever.
This letterbox is on the trail to an earlier (and, frankly, far better) drewclan letterbox. It's at Odiorne Point Science Center park, and you'll pass my box if you're on the winding path to the drewclan letterbox.
My letterbox was tucked beneath a large boulder near the arched entrance to bunkers.  (It was one of the large boulders nearest the main trail, on the left as you're looking at the bunker.)
I may restore the clues here, later.  For now, they're at several websites, including Letterboxing.Org.  (Those sites are updated when a letterbox is confirmed missing. That's something I'm not able to do, at the moment.)
And, in case you're trying to figure it out, the stamp is supposed to show a lighthouse.
Odiorne Point Science Center park is an ideal spot for hiking, bird watching, or letterboxing.
Seacoast2 Letterbox – Missing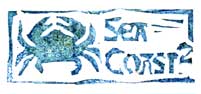 This stamp–now missing–was at the Urban Forestry Center, not far from  where Yoken's was, in Portsmouth, NH.
It was hiding inside an old tree.  About a year after I planted the letterbox, the tree was cut down and the letterbox seems to have vanished with it.
It was an ideal location for letterboxing, but the mosquitoes can be ferocious during a warm, damp year.
Nashua, NH

All of the following letterboxes were planted before 2004. Every one of them was reported missing around 2007.
Gilson Road Letterbox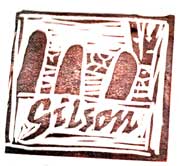 NH Ghosts Letterbox
Unfortunately, I didn't keep a copy of the hand-carved stamp, showing several comical ghost figures. (Apologies to those who take ghosts more seriously than I do.)
Ft. Worden, WA
Note: Before visiting any Washington State Park,it's a good idea to review their regulations
I used to visit Fort Worden every year.  After 2004, I moved and stopped going to the fort. So, I was unable to maintain these letterboxes. Since then, all have been reported missing.
---

REPORTED MISSING
Fort Worden Trails
This one was easy to find, but the stamp is missing now. It was at the main desk at the office at Fort Worden State Park. They kept it in the box directly behind the counter, with the Junior Ranger stamps, and so on.
Even though this stamp is missing, get a trail map and visitor's info before hiking to look for any other stamps that have been placed in the park. The Fort Worden staff is very helpful, and they're easy to work with if you're planting any letterboxes. (Get their okay before planting any.)
---

REPORTED MISSING
Point Wilson Letterbox
Though the letterbox is now missing, these photos show the park and a possible location for future plants.
At Fort Worden State Park, find Battery Stoddard. It's an easy walk from the office. Take the trail uphill, just west of Battery Stoddard. Continue straight up the trail, past the wooden step-like rails. Continue past the first bench.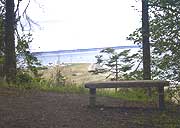 first bench
Pause and sit at the second stone bench, and enjoy the view.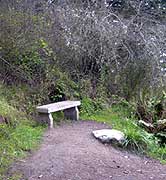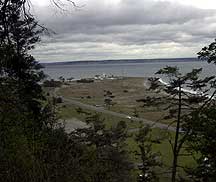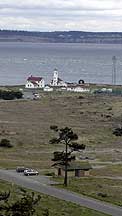 Stand, and turn to your right. Take about 38 paces uphill on the trail. You'll go past two "waterbars" in the ground. They look like railroad ties, with Xs across them.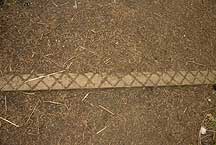 Continue up the trail. About 19 paces from the second waterbar, on your left you'll see a large evergreen tree with a burrow started in the base of it.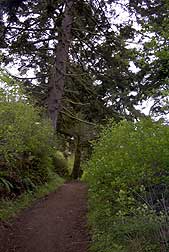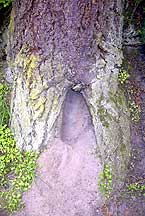 burrow in tree
The letterbox was tucked just in back of that tree.  It wasn't a very secure location, but it was a nice, easy find for beginning letterbox hunters.
---
"Artfest Was Here" Letterbox (with a nod to "Kilroy Was Here")

REPORTED MISSING.
This is where another of my letterboxes was.
Directions: From the previous letterbox, continue up the trail. You may be glad that you picked up a trail map at the Fort Worden office, so you can find Memory's Vault easily. That's where this letterbox is hidden. (For info about Memory's Vault, see this website.)
At the vault, find the sheltered chair.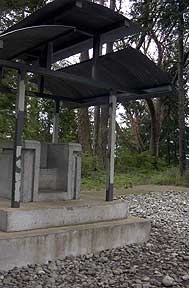 From the chair, turn to 140 degrees (SSE) and look at the split trees. They're about 14 paces from the chair (and no more than three or four paces off the trail.)
The letterbox was in a green-lidded Rubbermaid container, hidden in the ivy in the elbow of the trees.  Again, it's not a red-hot location, but I created these letterboxes to introduce people to letterboxing.  Yes, I knew the boxes would vanish. I was okay with that. During a 2004 arts event, attendees had a chance to find at least one of my letterboxes. That's why I created them.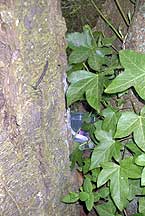 letterbox in the ivy