Purchases made through my links help support this website, at no additional cost to you.  Details.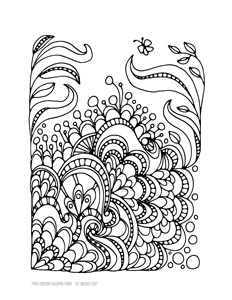 Yes, this seems like a good day for a free coloring page.
I'm working on a couple of new coloring book series. So, I'm happy to share one of the pages.
I draw these by hand, and then clean up the lines (just a little) in Photoshop.
So, they're kind of irregular. They're kind of organic. And, yes, they're a style I've been drawing in, since my early teens.
(As a teen, at the local public library, I created each summer's reading program artwork for the Children's Reading Room. It was almost always in this style… wavy, wobbly, and fantastical.)
Here's the link to the free coloring page: https://drive.google.com/open?id=0B8noedrX-LRwWW1VMnlWU0lIeE0
If you'd like to share the link with a shorter URL, this works, too: http://tinyurl.com/zwyp7rd
It's a hand-drawn coloring page — 8.5″ x 11″ — that you can download and print as a PDF.
For more free printables, see my full list here: Free Printable Art.