Purchases made through my links help support this website, at no additional cost to you.  Details.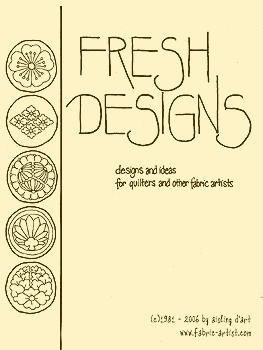 In the early 1980s, I assembled a book of quilting designs. That is, they're guides for stitching on completed quilts.
However, you could use these same designs for many other kinds of art, especially fabric art. And, I included some suggestions on a couple of pages in this book.
For example: For a non-fabric art application, I might use some of these designs as templates to cut random pages from magazine photos, and create a collage.
In felt or fabric, they could be great applique designs.
In the early 1980s, this book was sold in quilting shops throughout the US, Canada, and Australia.
Now, I've scanned the pages of this book, and assembled them as a free book for you to download in PDF format.
How you can use this book and its patterns
You can use these patterns for your own original art, even art that you sell.
You can also copy these pages–or the entire book–and distribute it to friends, or even to students in a class that you teach.
You can use these patterns at your own website, or even offer the book as a freebie at your site.
Copyright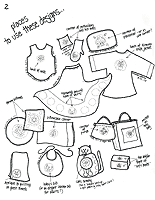 I retain the copyright to this book and its designs. Here are the copyright rules:
You can't charge for the book or its designs, but it can be a free handout in a class that you teach.
You must be sure that my copyright notice is on any individual pages that you distribute.
Also, don't pretend that you created this book or its designs.
If you distribute the book–printed or online for printing/download–the last page in the book must be part of it. That's where the copyright details are.
Please do not link directly to the PDF file at this website. You can link to this page… just not directly to the PDF file itself.
Download as a PDF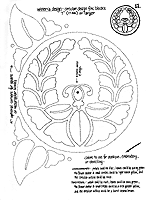 You can download this book and print it at your computer. It's in PDF format, which can be read by several programs, including the free Adobe Reader program.
To download your free copy of "Fresh Designs" in PDF format (about 5MB), right-click on this link and choose "Save to Disk."
(Be sure to remember where you saved it on your hard drive, so that you can print it, later.)
right-click here for Fresh Designs download
(Please do NOT post the PDF link at other websites, forums or lists.)
P.S. I no longer own the domain name, fabric-artist.com.  I'll change those links in the book when I have more time.