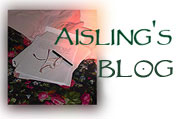 Today, my focus is on sewing. Well, that's probably because I've had my fabrics unpacked (from boxes in our garage and my studio closet) for over a month, and I'm almost ready to start sewing again.
Visual inspiration
I'm so inspired by the quilts at Melody Johnson: Art Quilts, I want to start sewing right now. Her use of color and design is beyond amazing.
Was that last link overwhelming? Well, if you like the simplicity of Amish quilts, be sure to see the Quilts of Gee's Bend. They may inspire you to make quilts of your own.
That got me on a simplicity kick. Really. I love the happy faces at Heidi Kenney's My Paper Crane. They're charming!
Resources
Distinctive Fabric offers hard-to-find fabrics at great prices. Be sure to click on their Projects link, to see what some clever customers have made, from mermaid tails to Father Christmas costumes.
Free Quilt Patterns offers links to a bazillion… well, free quilt patterns, online. Some are fabulous, some are regrettable, but hey, they're all free.
Not free but cool anyway, the online learning opportunities at Quilt University look intriguing.
I love the information at VintageSewing.info. You won't find old patterns there, but you can read scans of great vintage and antique sewing books.
If you're looking for actual patterns, try the Vintage Patterns Lending Library. Wonderful!
Once you've chosen a pattern, visit ReproDepot is where you'll find yummy vintage reproduction and retro themed fabrics, patterns, and more. Emma One Sock features some vintage-style fabrics, too.
Speaking of vintage patterns, I may have to make a retro sock monkey. I'm absolutely in awe as I look at Peng-Peng Sock Monkeys. (Be sure to scroll down to see the bears on that page.) You'll find sock monkey supplies online, too, if you can't get them locally.
Whip Up features some great tutorials, too. That one's worth bookmarking. (I found their link to a sock monkey tutorial later in my search.)
Even more imperative as an upcoming project, Sewing Stars' Mouse Pattern is so cute, I can hardly stand it. (That free pattern's for personal use only, btw.)
I may also have to make some Little Treasures. Oh, I don't know what I'll do with them, but they look cool anyway.
Changing the subject dramatically… If, like me, you've gasped at the price of some underwear, check out the DIY How to make underwear pages. This Japanese site features free patterns and some wonderful ideas for everything from boxers to thongs.
Different–and interesting–are the ideas for T-Shirt Underwear, with printable PDF pattern pieces.
In other make-it-yourself notes, the Making a kilt page provides nice clear illustrations.
I'm also impressed with the array of Husqvarna's Sewing Projects, which you can download and print as PDFs, and the cool hoodie kimono pattern at… I'm not sure who's put that online.
A little more funky, Beginner Costuming offers some great info for making corsets from any era.
But, for me, Renaissance Tailor: Recreating 16th and 17th Century Clothing is a 'Holy Grail' site. If you like costuming and garb, check out the many free patterns hidden among massive text descriptions.