Purchases made through my links help support this website, at no additional cost to you.  Details.
(Originally, I called this card "Ghosts of the Old Saloon," but later realized that doesn't really echo the depth of what I wanted to convey with this card. I may redesign it, but – for now – here it is, anyway.)
Reminder: This image includes female, upper-body nudity (if you really look for it) and may not be office safe.
So, click back to the sitemap (or the previous page) if you don't want to see this ATC (artist trading card).
Generally, my artwork does not include nudity.  If you know me in real life, I tend to lead a very G- or PG-rated life.  (I'm usually a squeaky-clean, Disney-type person.)
If you're okay with images with upper-body nudity, scroll down.
blank line
blank line
blank line
blank line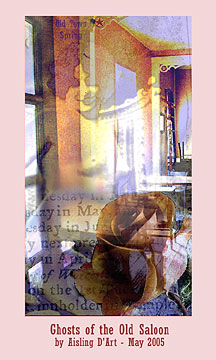 This 3″ x 5″ ATC features a theme inspired by the Wunsche Bros. Cafe, which was a saloon in the "Old West" days of Old Town Spring, Texas. It was known for hard drinking, fast living cowboys, "loose women," plus shoot-outs from the upstairs patio.
Many (most?) citizens went out of their way to avoid that part of town.
Today, the restaurant is famous for great burgers, informal and eclectic decor.
The images in this ATC include a photo that I took at Wunsche Bros. Cafe.
If you are at the restaurant, ask for a (free) tour of the upstairs. You can still see the original room numbers over eight different "hotel rooms" that are mostly offices today.
Anyway…
I started with my own photo from the restaurant's upper floor.
The layer over that is a nude. I altered the colors, increasing magenta and yellow to mimic sepia tinting; then I inverted the color so that it turned out a good, aged-looking blue.
Over that, I placed sections of text from the 1817 & 1819 Farmer's Almanacs and a yellow rose from PDPhoto.org (public domain photos).
I tweaked the layers making them various levels of transparent. I also increased the color saturation, and added the words "Old Town Spring" in faint letters over the woman's head. All of the new text on the card is in the Rockwell Condensed font.
To download a ready-to-print copy of this ATC, right-click here and save the image to your hard drive. Print it at 150 dpi on your home printer.
As always, this image is copyrighted, but free for your personal, non-commercial use, as long as you don't alter it in any way.