Purchases made through my links help support this website, at no additional cost to you.  Details.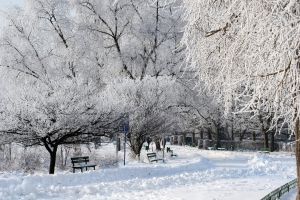 The weather has become… odd. Warmer than usual, much of the year. Colder at unexpected times.
Generally… kind of odd.
So, when I was browsing old magazines and newspapers, this article caught my attention.  It's about a "snow devil" alternative to a snowman.  It sounds magnificent, and ideal for an outdoor art projects.
The article is from the San Francisco Call, published on 4 February 1912.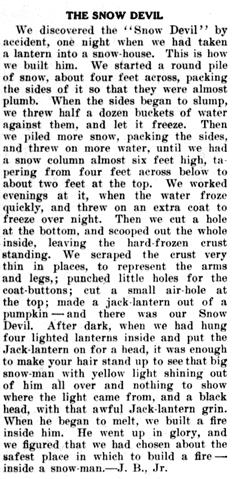 Here's another tip:  When I was little, my mother used to give me the tops of beets – some of the beet, with the green plant to use as a handle – and I'd "paint" the snow and ice with the beet.  The color was a wonderful magenta.
I'm sure you could create interesting effects with this "snow devil" with natural coloring, like from beets (or the water you cook them in).
You could also use food coloring, or diluted Dr. Ph Martin's dyes or radiant colors, or even some watercolors.
(The problem with the latter might be an environmental issue. I'm not sure that the small amount of paint would make a huge difference, but… well, you can look into it if you decide to add color to your "snow devil," and acrylics are what you have on hand.)
I think this "snow devil" would require several coats of water so it'll last for awhile.  When I was little and we made igloos in our backyard, we'd coat the snow with buckets and buckets of water.  Between each "layer" of water, we'd let everything freeze solid, and then add more water, and so on.