Purchases made through my links help support this website, at no additional cost to you.  Details.
You can write your own life story in just 15 minutes a day.  Really.
I'm probably best-known for my personal journaling workshops and online art journals.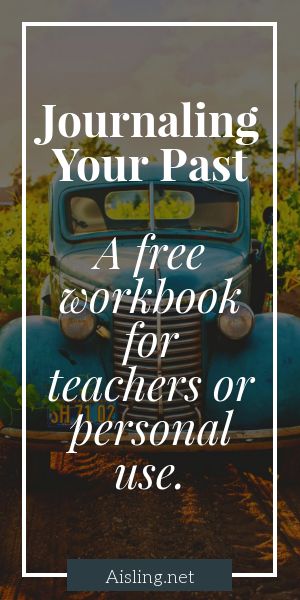 I want to share one of my favorite workshops with you in this free PDF about journaling your own history.
Journaling Your Past is a free 26-page manual, and it's like taking one of my workshops at home.  (This PDF was the foundation of my Artfest 2001 workshop of the same name.)
You'll learn how to create a rich and rewarding journal of your personal and family history easily, in just 15 minutes a day.
Whether you'd like to record your life story for future generations, or introduce your family to the fascinating study of genealogy and family history, this is a great way to start.
This workbook includes class notes, reproducible worksheets, and tips on how to teach this class yourself.
It's also ideal for homeschoolers, Scouts or church groups, or for family evenings at home.
This ebook is a PDF you can read with the free Adobe Acrobat Reader program.
To read or download this free ebook, click here:
Journaling Your Past by Aisling D'Art