Purchases made through my links help support this website, at no additional cost to you.  Details.
I love-love-LOVE magpie journals!
What is a Magpie Journal?
Well, magpies are known for collecting all kinds of things, especially shiny objects… but that may be just a legend.
So, a "magpie journal" is an assortment of things you've collected, organized as an art journal… or something journal-ish.
NOTE: I use the word "journal" loosely. As far as I'm concerned, it's a journal if you say it's a journal. No other rules apply.
Magpie journals may be random ("things I found on the ground this morning") or themed ("my favorite chocolate candy wrappers").
Your art journal embellishments can be paper or mixed media. They can include random objects, too, like feathers.
If your pages are going to be heavily embellished, consider using gesso first, to strengthen the paper.
Don't want to attach the item? Can't attach it? Some items could be in pockets or fold-outs.
The earliest magpie journals I could find were from a 2012 Swap-bot swap.
Magpie Journals, in Videos
Here's a video from 2013. It's about 7 minutes long and it's of one of those early, Swap-bot magpie journals. You'll get the idea in the first few minutes. It's by Diane Baker-Williams.
Link: https://youtu.be/_SGztluUtFg
Next, take a look at this 2-minute video by Wishfulkelly, and it's described as a smash book / glue book / Magpie journal. It's a very quiet video, with music playing faintly in the background. It's fun.
Link: https://youtu.be/Hzy6x87zIDA
Conifer Crow's Magpie Bundles
Want more ideas?
Elizabeth Metz (Conifer Crow) creates "magpie bundles," which are mixed media journals you can leave as-is, or take apart, embellish, and add to. The following is a 6-minute video showing one of her smaller bundles. (It's already sold.)
I like this video as a starting point, to imagine my own mixed-media magpie journals.
Link: https://youtu.be/Ha931rXhY-E
Also, you'll find lots of inspiration at Theresa Mask's Magpie Journal Pinterest board.
Free Magpie Clipart
If you'd like to create your own magpie journal, here's a sheet of printable clipart to get you started.
It includes images representing magpies.
Technical tip: That digital download was created at 300 dpi. So, you could probably enlarge the pictures to double their size (at 150 dpi) and they might look fine.
The original is black & white. If you print it on heavy paper, you could color it with paint, pens, colored pencils, or other media.
The images are set apart so you can cut each one out (or tear it out) to use in collage.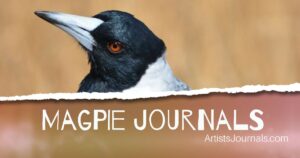 To download, click on the picture
or use this link: http://bit.ly/magpiepix
(You can share that link, too. It's a PDF at Google Drive.)