Purchases made through my links help support this website, at no additional cost to you.  Details.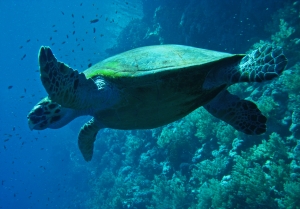 Are you a mother sea turtle?
If you're a creative person, maybe you should be.
That's the advice of Matthew Diffee, and I think he's right.
Matthew Diffee Interview
Human Demo: New Yorker Cartoonist Matthew Diffee Shows How To Be Creative – Forbes vianews.google.com

… Among Diffee's pieces of advice for aspiring creative people is this aphorism: "Be like a mother sea turtle." By that he means lay a hundred conceptual eggs in the sand, then swim off and don't fret over what becomes of them. Most of them will never hatch; most of the hatchlings will get eaten by predators. That's not your problem. Your task is just to keep laying eggs. …


In a way, when he says, "Your task is just to keep laying eggs," I'm reminded of the Cult of Done Manifesto [click here for a free, printable PDF copy], where Bre Pettis says, "There is no editing stage," and "Once you are done you can throw it away."
As artists, I think we can be held back by fear of failure.  In our heads, we've already become critics, even before picking up the pen, pencil, or glue stick.
It's important to just go for it, and allow serendipity to play a part in the dance we call creativity.


And finally, here's one summary that I like a lot. Click on the link and scroll down to the section that starts "Best sesh."  I think the summary at the very end of the article is the important part.
SXSW Day 3: It's all about Bob (Marley) and creativity – Vancouver Sun (blog) via news.google.com

SXSW Day 3: It's all about Bob (Marley) and creativity. Matthew Diffee, a cartoonist whose work appears in the New Yorker, defined his YEP! approach to idea generation at "How to be an idea factory" session at SXSW.

… Caffeine kicks starts the "Process", so he sits down with an empty sheet of paper and doesn't stop the free flow of ideas until the paper is full and the pot of coffee is empty.

How he does it: He simply starts with a word or phrases and then applies the following: Add things to one of the ideas…


And this leads to the topic of art shrines (really)
And, speaking of Bre Pettis (of the "Cult of Done Manifesto"), if you've never made an art shrine in a book, here's his video showing one way to start the project:
How fast Bre works, versus reality
About 10 years ago, I taught a class like that at Artfest.  I have no idea how Pettis took only 20 minutes to cut the pages; some of my students spent the entire day cutting.
(Yes, that was the last time I tried to teach that as a one-day class.)
Usually, the cutting took me about an hour and a half, with breaks to keep my hand from cramping as I held the cutting blade.
During those breaks, I'd work on elements that would go inside the art shrine.
I've always liked tooled metal, similar to the journals Tracy Moore created, so I found ways to include some sheet metal (doesn't have to be very thick) in some of my altered books and art shrines.
Tip: To stamp the words into the metal, I like a good, heavy tooling set like this one.  (Some of the lightweight sets sold at arts & crafts stores… they just aren't sturdy enough to hold up for very long.)
And then, I'd go back to cutting more pages in the book.
It was tedious, but the finished altered books made it worthwhile.
Today, I'd probably do a lot of the cutting with a cordless rotary tool, like a Dremel.  Yes, it could accidentally gouge some of the back cover, but if you use Pettis' idea of putting a felt liner there, nobody will know if the rotary tool got a little out of control.
I'd also consider using a wood burning tool here & there, along the inside edges of the opening.  That could look cool and antique-ish. It could also cover any raw or weird areas, as well.
Tea staining could work, but it won't be as good at disguising "oops" areas where the blade may have been sloppy.  And, in a single-day workshop, the tea won't dry quickly enough to move to the next step – sealing the edges – unless you use something like an embossing tool (heater) to dry the pages.
After whatever edge treatment I chose (if any), I'd cover the edges with clear, matte finish acrylic gel medium, so the pages would hold together, but it wouldn't look too obviously glued. (For some projects, I might mix in some small, dried leaves or glitter, depending on the effect I wanted to create.)
This next video starts with some altered book ideas, but he's using a board book and cutting out part of each page.  Then, he wanders into some interesting mixed media techniques that might work well with the first (shrine-style) altered book, above.
I hope those give you some creative ideas!
With thanks to David Locicero for telling me
about Matthew Diffee's interview.