Purchases made through my links help support this website, at no additional cost to you.  Details.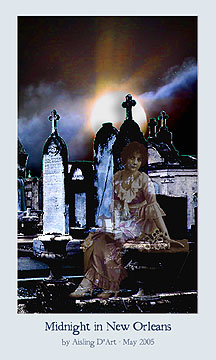 The idea for this started with an illustration in Photoshop Secrets of the Pros showing an eerie, monochromatic image by Joen Asmussen. The clouds in the sky of that image inspired me to try a similar effect, using some of my own graphics.
I started with a public domain photo of a solar eclipse, courtesy of PDPhoto.org.
On top of that, I placed part of a cemetery photo from New Orleans. (I've been there on vacation, so I had a lot of pictures to select among.)
Next, I changed the color of the eclipse and increased the saturation.
Then, I cropped the cemetery photo to fit, and adjusted the color to compliment the eclipse.
After that, I added a drop shadow to that layer.
To place the (public domain photo) woman, I used Adobe Photoshop's lasso tool to isolate her and then pasted her image onto the ATC. (The flowers in her photo perfectly matched the placement of a cemetery urn.)
I erased the superfluous areas of her picture, and created a duplicate copy of her image.
I positioned both of the images of the woman, one on top of the other. I made the top layer transparent, to about 28%.
On the lower layer, I desaturated the picture, reduced contrast, and then made it transparent enough for the background to show through.
With that completed, I began working on the top layer by first adjusting color and contrast to suit the background; after that, I reduced saturation for a vintage effect. Then, I tweaked the transparency of this layer and her other layer, below, until I achieved the balance that I wanted.
The font is Whiffy, a free font which I selected after trying to mix another font with Ruben (a "Disney's Haunted Mansion" style font) without success.
As usual, this ATC is copyrighted, but you can download and print a full-size 3″ x 5″ card (at 150 dpi), here.