[Note: I  may earn a commission if you purchase something I've linked to.]
Okay, I'm so hooked on coloring books, I may need a support group soon. (I am kidding. I can't imagine wanting to be pried away from my art… ever!)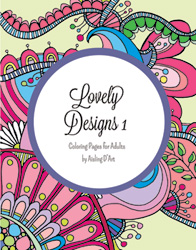 My latest is Lovely Designs 1 (now out of print), and it's a little different from my previous books. In addition to the 26 coloring pages (printed on one side of each page), I've included six "DIY" (do it yourself) pages.
When I draw my coloring pages, I don't sketch anything ahead of time. Instead, I go right to work with a large pen or brush-style marker. I make broad, sweeping strokes to indicate the main areas of the design.
Next, I scan those drawings, so I can clean them up a little in Photoshop. That's partly to erase any truly impossible lines I'd included. However, it's even more useful to get a fresh look at the art… in a different scale (small), and in a different context (on my monitor).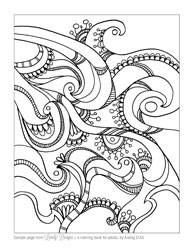 It's similar to how I used to explain my online diary, back when people thought that was weird. (Long before "blogging" became a trend.)
I used to explain how much easier it was to see what I was doing well — and not-so-well — in my life. On the computer monitor, it was like reading someone else's story, not my own. (That may not be easy to understand, but — in those days — people weren't so deeply enmeshed in social media and in each other's lives. So, to read a "story" online was like reading a news story or diary by someone else altogether.)
Anyway, after I tweak my initial drawing, I print it so I can add embellishments and details, by hand.
Six of those un-embellished scans became part of Lovely Designs 1, along with three illustrated pages explaining how I embellish them… in case anyone else wants to try their hand at this kind of art, but needs a "head start" to gain more confidence.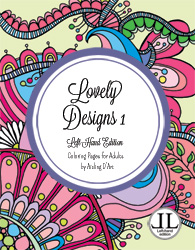 Also, Lovely Designs 1 contains two mandalas and two repeating patterns based on the same drawings.
For my left-handed friends, I've also created a left-hand edition of Lovely Designs 1. (I'm trying to do this with most of my coloring books. In my opinion, nothing about art should be inconvenient, ever. That includes having to reach across a coloring book, just to color the picture.) That's its cover, on the right. (See the double-L logo at the lower right side of the cover, indicating a left-hand edition.)
So, anyway… the freebies have arrived. I've added them to the ColoringGroup.com list of free coloring book pages.