A dear friend asked me about creating a work of art that includes a figure of a child.  It's going to be very emotion-rich art.   She was musing about the best approach — drawing, painting, sculpture, photography, etc.
Here's part of my reply, with extra details and links:
I suggest working with either oils or acrylics.  If you're really unsure of your  drawing skills for this project, invest in a "projecta scope" kind of toy.  It costs about $30 and you'll have it forever. I've used one since childhood, whenever I need to get an outline (or details) better than I could draw on my own.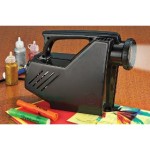 Here's one at Amazon: Projecta Scope (Yes, that's an affiliate link. I'd recommend it anyway.)
You'll see other Amazon products that are similar, but that's the same toy/tool I've used since I was about 14 years old, and it still works.  It's primitive, clunky, cheap… and reliable.
If you're already ordering at Dick Blick — maybe getting the paints I recommend, below — save shipping and get the Projecta Scope there.  They sell it as a Gagne Minisketch, but it's the same product as the Projecta Scope.  The Dick Blick version just a prettier design (it's white plastic with a pretty blue label) at a slightly higher price. [Link
]
(You might be able to find a Projecta Scope at Toys R Us, but when I needed to replace mine a few years ago — my original one was lost during a move — I had to order online.   I couldn't find one anywhere in the Boston area, and I wasn't about to pay $100+ for an art store version that was more bulky but did pretty much the same thing.)
I recommend using a tool like that, with a photo, to get the right figure placement & positioning.  I get a lot of my photos, free, from Stock.xchng, http://www.sxc.hu/ You'll probably find something very similar to what you need.
Download it, print it, and enlarge it with the Projecta Scope.  Presto, it's a figure you can work with!
With that outline sketched on the canvas, you can begin painting.
Capturing emotions in a painting
When painting, always rough everything in, with little detail.   Just create areas of color — or even just light & dark — to start with.
Then, keep adding more details and color — a little here, a little there, keeping things more-or-less in balance — until you achieve the effect you want.
Generally, people take their paintings too far and don't realize that it's better to simplify when that happens… don't keep correcting or adding details.
But, when you're working with something deeply personal and/or emotional, it's best to keep the artwork simple, anyway.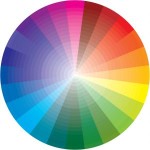 The figure will probably be the easiest part to suggest.  Getting the light & shadows just how you want them… that'll be the greater challenge.
I suggest using not just light & dark, but incorporating contrasting colors — yellow in the light, and plenty of purple in the shadows, for example — to magnify the theme and illuminate the light areas.
When you work with colors that are opposite each other on the color wheel, it generally makes both colors seem to glow: Red v. green, yellow v. purple, and so on.
Working with acrylic paints
Acrylics are good because the paint dries quickly… but that's the problem with them, too.  In most cases, you can't tweak areas of color after about 20 minutes, or the paint will smear in strange ways.
However, I've had far better luck with the Italian line of acrylics,  Brera (from Maimeri).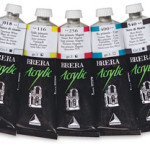 In fact, I use only Brera acrylics
(that's a Dick Blick link to a good starter set) when I'm painting with acrylic paints.  Brera's colors are more natural, they mix better, and the drying time is just a little longer, which allows me to create effects that… well, some people can't tell the difference between my acrylic paintings and my oil paintings.
Brera paints are that good.
(If you buy them at a place like Dick Blick
, they don't cost significantly more than Golden or other good quality acrylics… but I think you'll like Brera vastly better than Golden, etc.)
For a delicate work, especially something that will include a lot of emotion, I think either acrylic paints or oils are a good choice.
Avoid going too far
However, be sure to stop regularly as you work.  Spritz your canvas with a very fine mist of water, to keep it from drying out too much, if you must. (If you do that, put the canvas on a table or floor — or some horizontal surface — so the water doesn't make the paint run.)
By pausing for 10-or-so minutes, and going for a walk or something, you'll return to your painting with a fresh outlook.
I've learned that what I initially think needs more work is actually fine, and it's another area that needs tweaking.  Taking a walk helps me see that… and it prevents me from making changes that I'll regret, later.
One final tip when painting:  When a painting doesn't look right, turn it upside down.  For some reason, that can often highlight exactly what isn't working.
The most difficult thing about painting is knowing when to stop.  Remember, if you want a photograph, take a photograph.  Paintings — especially those that tell a story through imagery and color — should never let detail, technique and expertise upstage the emotional content.
I hope that's helpful.  Leave your questions or comments, below, and I'll reply next time I cruise past my website.