Purchases made through my links help support this website, at no additional cost to you.  Details.

I've never seen anything like these pencils. Really.
In the graphic below, I used just ONE pencil to color everything. (Okay, I colored the yellow stars with a brush marker, but that's the ONLY other coloring tool I used.)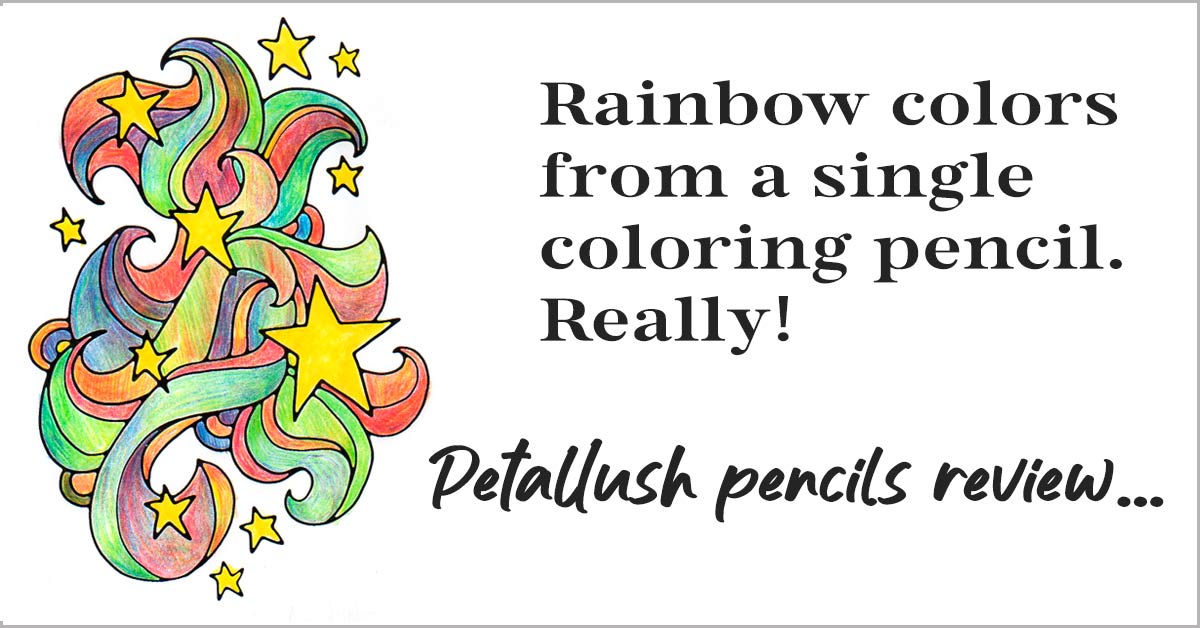 It's not a mechanical pencil with lots of leads in it. It's an actual, hard-lead pencil… but the lead in it is multi-colored.
As I'm writing this, the set is just $7.99 for 12 pencils. However, all the pencils seem to be identical. And each has the same kind of multi-colored lead.
To get the different colors, you just turn the pencil slightly as you're coloring.
Yes, that's it.
I'm astonished and kind of delighted. I can carry just ONE pencil with me – and a pencil sharpener – and use it for sketching and art journaling in lots of different colors.
Tips for the best results
Keep sharpening the pencil to get the maximum range of colors as you're coloring. (The set comes with a little pencil sharpener, but I used my trusty Xacto brand sharpener… the inexpensive manual, non-electric kind.)
Turn the pencil very slowly to get the colors you want. It may take some practice to see just where your chosen color needs to be, in relation to the paper you're coloring on.
I'm definitely in love with this pencil set. But do I really need 12 of them…? I think this one will last me a very long time.
I may go outside when kids are coming home from school, and hand out most of the other 11 pencils in this set.
Click here for the Petallush Colored Pencil Set at Amazon.
Also, if you'd like to color the same stars-and-swirls coloring page I created, click the little image of it, immediately below, for the printable (b&w) PDF.  Or click here for more free downloads: Aisling's Free Art Printables.
Here's the official Amazon link. Clicking it should take you to the Petallush pencils page.