Pin dolls are both wearable art and fiber art.
My pin dolls range from my modern "dangerous women" to the vintage images on my "faerie ancestors" series.
Here are a few of them.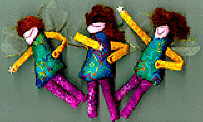 The dolls shown above are from my series, Dangerous women reaching for the stars. Each of them are about six inches tall.
I made a total of nine of those dolls; eight are owned by collectors.
You can make your own dolls like these, from my free, printable pattern, Dangerous Women cloth dolls. (Coming soon to this website.)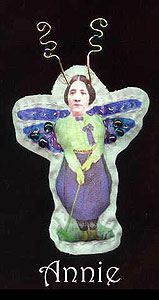 My vintage image pin dolls feature photos of my ancestors. One of them, Annie Maloney Morey (from Co. Cork, Ireland), is shown above.
I placed my great-grandmother's face on a figure from early 20th century advertising art, gave her wings, and then ironed the image onto cotton muslin.
Each doll is hand embellished with glass beads and handmade wire-and-bead antennae. Then, I stuff and hand stitch the doll, and apply a pinback so that the doll can be worn or used as decor.
For more about my Annie pin doll, see Annie Faerie Pindolls.