Purchases made through my links help support this website, at no additional cost to you.  Details.
Free art! This is one of many Artist Trading Cards (ATCs) that you can print from my Aisling.net website.
This card has been so popular, you can also print it as a free mini-poster, about 5″ x 7″.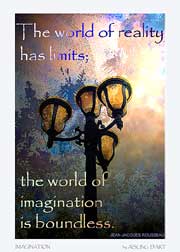 I was working with photos of smoke.
I wanted to see if I could "lift" the smoke from the biggest photo, and collage it onto other pictures for an eerie effect.
After I'd cut some of the background from the photo, it looked very artsy… which started me thinking about ATCs.
The ATC was made in three layers:
1. A photo that I took outside a Texas restaurant,
2. The altered layer with smoke, and finally,
3. The lamp post that I'd cut from the bottom layer and added as a third, top layer to make the lamp post more prominent.
The text is in the Papyrus font. (It's the same font used for the original Avatar movie, and it's a free font.)
I like this ATC so well, I made a second copy of the design that will print as a 5″ x 7″ mini-poster. (If you turn it horizontally, you can print two copies on one sheet of paper.)
To download a printable copy of the ATC, right-click here. This ATC is 2.5″ x 3.5″ (at 150 pixels/inch) since I scaled it down from the mini-poster.
To download a printable copy of the mini-poster, right-click here. It also prints at 150 dpi, and will be 5″ x 7″.
As always, I retain the copyright to this artwork. However, you can freely reproduce this for your personal use, as long as you don't alter anything except its size.