[Note: I  may earn a commission if you purchase something I've linked to.]
My sketchcrawl day started at about 8:30 a.m. when I arrived at Alewife MBTA station.  I'd been on the road for nearly two hours, so it was a relief to park the car and begin the day's adventures.
My first sketch was on the train.  I decided to take photos at each sketch location — when possible — to document the day in sketches and photos.
Also, like my travel journals, I kept my receipts in my sketchbook, as well.  You can see one of them, below, on the page facing my first sketch.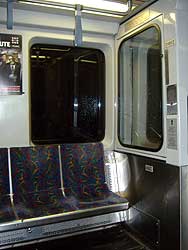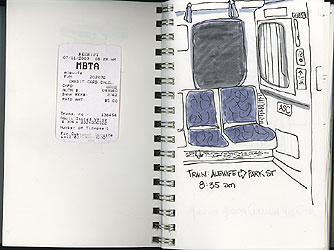 I wasn't entirely happy with the b&w effect of monochrome felt tip pens.  So, when I arrived at the sketchcrawl meetup location (Visitors Ctr at Boston Common), I switched to pencil… and almost immediately regretted it.  I didn't finish that sketch.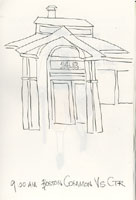 After that, I returned to felt tip pen.  For the line drawing, I was using the waterproof Pigma Micron pen, 08.  However, even though it's technically waterproof, I let the ink dry thoroughly before adding any color.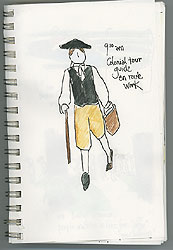 The next two sketches — on one page — were drawn from the same location as the previous sketch.  Mostly, I was using up time in case any late arrivals for the sketchcrawl showed up.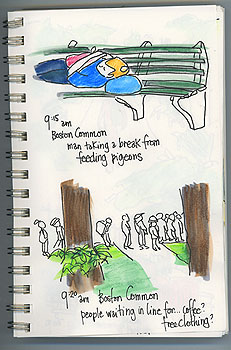 After that, I walked up towards the State House, following the Freedom Trail route.  Along the way, I paused to sketch a man walking along a tree-covered path. (The photo was taken after the sketch, when the man was out of sight and a woman in yellow was strolling the same path.)
Next, I stopped at the top of the hill, where a man was setting up his beverage stand.