A sketchcrawl is a casual tour, usually on foot. While walking around, the participants pause regularly and sketch what they see.
Around 8:30 AM on this July morning,  I arrived at the Alewife MBTA station, eager to join the planned Boston sketchcrawl.  I'd been on the road for nearly two hours, so it was a relief to park the car and begin the day's adventures.
My first sketch was on the train.  I decided to take photos at each sketch location — when possible — to document the day in sketches and photos.
Also, like my travel journals, I kept my receipts in my sketchbook, as well.  You can see one of them, below, on the page facing my first sketch.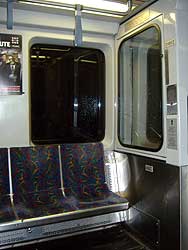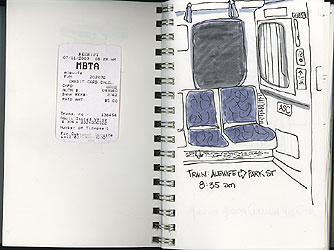 From the start, I wasn't entirely happy with the b&w effect of monochrome felt tip pens.  So, when I arrived at the sketchcrawl meetup location (Visitors Ctr at Boston Common), I switched to pencil… but almost immediately regretted it.  I didn't finish that sketch.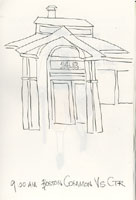 After that, I returned to felt tip pens.
For the line drawing, I was using waterproof Sakura Pigma Micron pen 08.  Even though it's technically waterproof, I let the ink dry thoroughly before adding any color.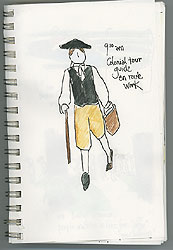 The next two sketches — on one page — were drawn at the same location.  Mostly, I was using up time in case any late arrivals for the sketchcrawl showed up.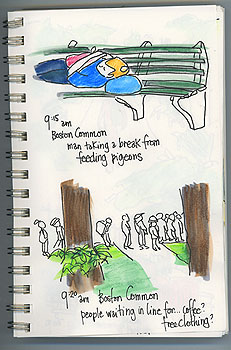 After that, we walked up towards the State House, following the Freedom Trail route.  Along the way, I paused to sketch a man walking along a tree-covered path. (I took the photo a few minutes later, when a woman in a yellow dress was  on the same path.)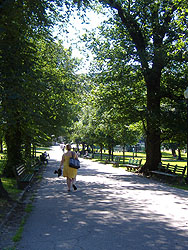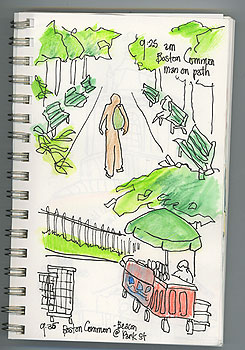 Next, I stopped at the top of the hill, where a man was setting up his beverage stand.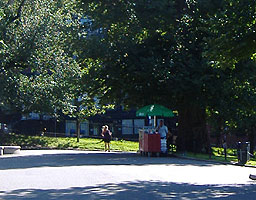 As I left Boston Common, the State House was glistening in the sun.  It's both majestic and approachable at the same time.  I like that.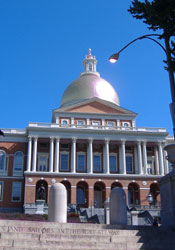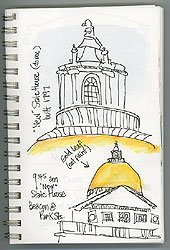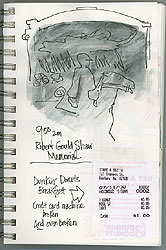 The Shaw Memorial is an amazing work of art, conveying depth with clever use of detailing and perspective.
In shadow, it didn't photograph well, but I can still remember my mother explaining the art techniques to me, every time we passed this site.
It was time for breakfast, but the nearby BK wasn't open yet.  I opted for Dunkin' Donuts… but their credit card machine and ovens were all broken.  I ordered a glazed donut just to have something to eat, but it's never smart to start the day with that much sugar!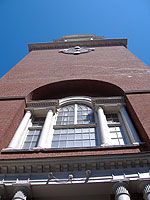 My next stop was the church at the corner of Park Street.  I decided to try sketching it from an unusual angle, looking directly up from the sidewalk in front of its door.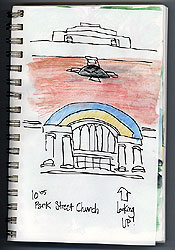 My next stop was the Old Granary Burial Ground.  It has wonderful history, and the light and shadow give it a very timeless quality.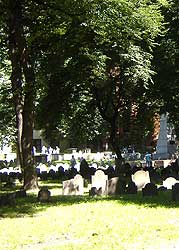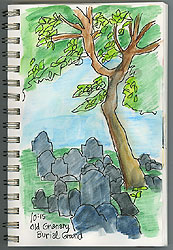 The crowds were increasing, and it was time to find more quiet places to sketch.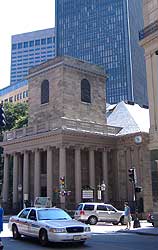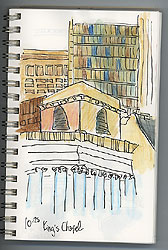 King's Chapel is a lovely old church, and it is still in use for services.  Since it was Saturday, we could visit and spend time sketching.  Suggested donation is $1 to visit, and you'll receive an interesting brochure explaining the site's history.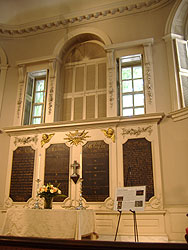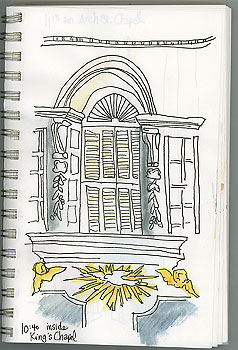 By the time I left the chapel and continued along the Freedom Trail, the crowds had increased dramatically.  It became more difficult to find any place to sketch without blocking foot traffic.
So, I visited a few more locations, and found respite at the Arch Street chapel.  I used to go to church there when I was little, and my mother and I were in the city for shopping or a concert.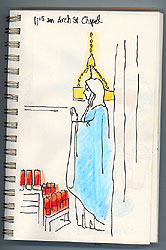 After that, I returned to a couple of Freedom Trail sites, hoping the crowds had diminished.  If anything, the sidewalks were more crowded.  At times, I had to step off the curb to keep walking, as tourists stopped to take photos and blocked traffic.
But, everyone was happy.  It was a busy day, but a fun one.  During the day, I think I heard Italian more than any other language, followed by English and then Russian and German.
It was time for lunch, and McDonald's seemed the simplest — and least crowded — option.
I continued to sketch, and added color to my earlier sketches.  I'd brought all kinds of art supplies with me, but liked watercolor pencils for adding color.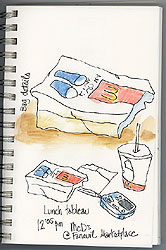 After lunch, the crowds were massive as I approached the USS Constitution.  So, I had to choose between switching to photos or going somewhere else to sketch comfortably.  I chose the former.
These are some of my photos from the remainder of the day.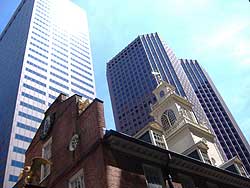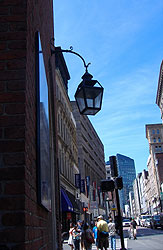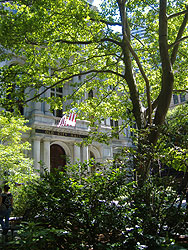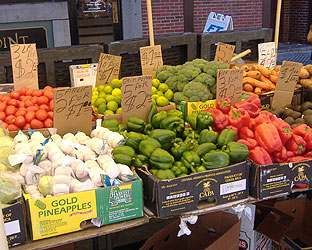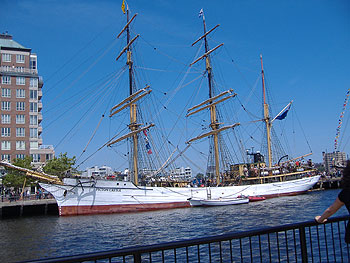 If you'd like to explore sketchcrawls, see my article, Sketchcrawls Explained. I describe how to start and what kinds of supplies to use.
---
2009 notes: The best $1.70 of the day was spent taking the water shuttle (on the T) from Charlestown Navy Yard to Long Wharf. (The one-way fare is just $1.70.  Really.)  The view — including the Picton Castle photo shown above — was incredible, and the cool breezes were wonderful.
Tip: Get shuttle tickets early if you're there for a Tall Ships event.  I stood in line for over an hour.  It was definitely worthwhile, but next time I'll purchase my tickets in the morning, before the crowds arrive.
---
These notes were from a 2009 sketchcrawl I organized, not associated with Sketchcrawl dot com.