[Note: I  may earn a commission if you purchase something I've linked to.]
The crowds were increasing, and it was time to find more quiet places to sketch.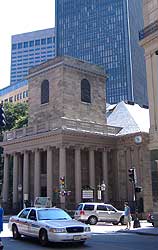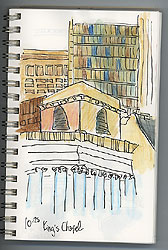 King's Chapel is a lovely old church, and it is still in use for services.  Since it was Saturday, we could visit and spend time sketching.  Suggested donation is $1 to visit, and you'll receive an interesting brochure explaining the site's history.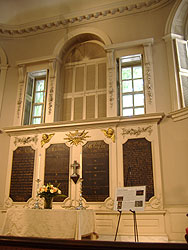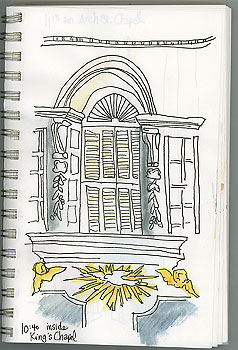 By the time I left the chapel and continued along the Freedom Trail, the crowds had increased dramatically.  It became more difficult to find any place to sketch without blocking foot traffic.
So, I visited a few more locations, and found respite at the Arch Street chapel.  I used to go to church there when I was little, and my mother and I were in the city for shopping or a concert.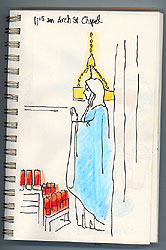 After that, I returned to a couple of Freedom Trail sites, hoping the crowds had diminished.  If anything, the sidewalks were more crowded.  At times, I had to step off the curb to keep walking, as tourists stopped to take photos and blocked traffic.
But, everyone was happy.  It was a busy day, but a fun one.  During the day, I think I heard Italian more than any other language, followed by English and then Russian and German.
It was time for lunch, and McDonald's seemed the simplest — and least crowded — option.
I continued to sketch, and added color to my earlier sketches.  I'd brought all kinds of art supplies with me, but liked watercolor pencils for adding color.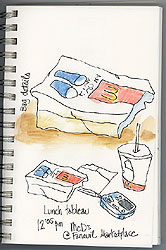 [Note: I  may earn a commission if you purchase something I've linked to.]