Purchases made through my links help support this website, at no additional cost to you.  Details.
Words + art = Word art. I love it!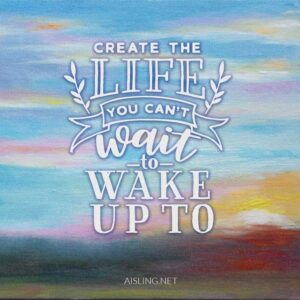 Next to my bed, I keep a three-ring binder for articles that inspire me, plus notes and ideas I jot on paper, and so on.
The cover of that notebook features word art, "Create the Life You Can't Wait to Wake Up To."
My illustration (above) features one of my early morning sunrise sketches – an oil painting – as the background.
Even after several years of seeing it every day, I still smile as I read those words. (In a Google Image Search, you can see many more examples of that phrase, accenting art & photos, or used as word art.)
I like the term "word art" because it describes art-with-words. That includes digital and printed art, calligraphy, mailart, art journaling, coloring books, and scrapbooking… plus many other creative projects.
And I love word art because – even if you can't draw a stick figure – you can still create lovely (even magnificent) word art.
Three parts of successful word art
Successful word art includes letters (usually as words, phrases, or longer text), so the style of the letters – the font (or fonts) – matter. So do the proportions of the letters and the layout of the text.
Of course, the message is important, too.  It should be something with an emotional impact. I like words and phrases that are uplifting and inspiring, and sometimes funny as well.
And finally, the background – if you use one – can enhance the message.
It's ideal for all three elements to work together. But, if you're a perfectionist, avoid tweaking more than you need to. Know when to say "good enough."
Where to begin
Every artist has their own system for creating word art.
It might start with an idea they want to express.
They might find a quote that makes their heart sing.
The spark may come from a sketch, a painting, or a photo. Or a photo of art.
This morning, I started with an idea, then found a quote I liked, selected a font, and then located a background photo.
I assembled the pieces in Photoshop, but Canva, Gimp, and other free tools can produce gorgeous results, too.
Here's what I created in about 10 minutes.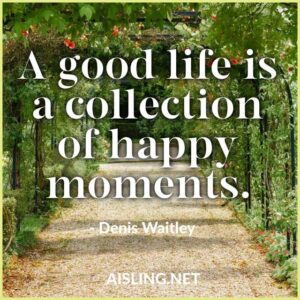 Tomorrow, I might start with some art and then build out, adding a quote I like.
In other words, no approach is "best" and – in art – I try to avoid by-the-numbers formulas, anyway.
Next, here are some tips so you can create and enjoy word art, too.
Quote resources
Most of my word art starts with an idea. Then I look for a quote that fits it.  In case I decide to use the finished art commercially, I try to locate quotes that are in the public domain. That prevents copyright disputes.
Here are a few sites I've bookmarked.
You'll also find public domain quotes at Goodreads, on pages related to individual authors' works from before 1923, and so on.
Also, you may want to review Quick & Easy: Public Domain Quotations (legal opinions)
Once I have a quote, I look for a font (or two or three) that suits it.
Fonts for commercial use
Like other artwork, fonts can be copyrighted… as software. (It's complex. You may want to read this article at Lawyers.com.)
Keep that in mind if you're planning to use a font in something like a coloring book, blank journal, poster, or print-on-demand product.
Free fonts
My favorite free resources include FontSquirrel and GoogleFonts. They specialize in open source fonts, and fonts you can use (free) in commercial products.
I also use sites like DaFont, but it's essential to check each font's terms of use. If it's "personal use only," there may be a fee to use the font commercially. DaFont (and others like it) usually provide links to contact the font designer about this.
Some huge sites – like FontSpace – offer great, free fonts for personal use. However, when I searched FontSpace today, looking for commercially licensed free fonts, none of their 71,000 fonts met that one search criterion.
Fonts to purchase
When shopping for fonts, you'll find many affordable options. Some are better than others. Frankly, many of them confirm the adage, "you get what you pay for," but some stand out with great products, great prices, or great customer service.. or all three.
Check sites like TheHungryJPEG,  CreativeMarket, and Artixty. They regularly offer packages of fonts at low prices.
Generally, if I find one or two attractive fonts in a package, I'll buy the entire package. That's usually less expensive than buying the ones I like, individually.
(Also, I've had great, fast response from TheHungryJPEG's customer support as well as CreativeMarket's.)
However, it's smart to double-check by searching (at Google, Qwant, etc.) for the font you like, by name. If you can't find it, search for the name of the artist or font foundry. Sometimes, their individual fonts are very affordable.
For years, I recommended FontBundles.net and their sister site, DesignBundles.  Now, after a shockingly bad experience with their customer support – as others have, too – I will never shop there again.
In a class of its own
My all-time favorite source of paid fonts is Design Cuts. (Obviously, they offer a lot more than fonts.) They offer bundles – often themed – for around $30. They're dazzling, and the values – sometimes in thousands of dollars – are not exaggerated.
You can also purchase individual products; the more you buy, the bigger the discounts.
For fonts, Design Cuts earns my highest praise. Their fonts are stylish and high-quality.  You won't find anything "plain vanilla" in their bundles or their individual products.
Their customer service has been flawless, as well.
A sneaky way to get the look you want, free
There are times when you want a great, stylish font, but you can't afford it.
Here's are two ways to work around that:
Sneaky tactic #1: Use a screenshot of several letters in the font you want. Then, use a free font-matching service like WhatTheFont!, WhatFontIs, or FontSquirrel's Matcherator.
See if they recommend a free or really inexpensive font that's "close enough" to what you wanted.
Sneaky tactic #2: Search at free font sites (like DaFont) using the name of the font you like. Then try slight misspellings. If the price-y font is popular, there may be a pretty good (and free) clone of it.
Note: Be sure it's not an outright ripoff of any commercial font.
Of course, no free or inexpensive (and legal) font is going to match the style and elegance of the original, high-priced font. But, until you can afford to buy that font, the lookalike might be all you need.
Learn the fine art of combining fonts
No matter what look you aspire to, font combinations can make a huge difference. The way fonts interact often highlights the best features of each font. In a way, it elevates the lettering into the "fine art" realm.
Search for "font combining" and you'll find lots of advice. Add the current year (right now, that'd be "2020 font combining") for edgy and trending combinations.
Here are a few sites to start:
Note: My header graphic on this site combines Black Diamond font (from Design Cuts) and Lato (a free font from Google Fonts).
Background art & photos
If you paint or take photos or otherwise create images you'll use in your word art, you probably don't need additional resources.
For everyone else, my favorite free resource is Pexels.com. The garden walk photo (in my meme-ish image, above) came from them.
If you're planning to post your word art or memes at social media, here are the best sizes for a variety of sites: 2020 Social Media Image Sizes Cheat Sheet.
Now, go play!
I hope this article has inspired you to try some word art of your own. Whether you use it to decorate your home or office, in an Etsy product, or you share it free in memes, word art is a way to convey a powerful message.
If you have questions, comments, or suggestions, leave a message in the comments section below. (I read and manually approve all comments at all of my sites, and I'd love to hear from you.)
---
Links in this article are (deliberately) not affiliate links. I earn nothing for recommending those resources.