Purchases made through my links help support this website, at no additional cost to you.  Details.
I've been making artistamps since around 1978.
My first stamps were handmade, one by one, and sent with my zines of that era. I hand-carved a border that looked like a perforated stamp edge, and stamped it repeatedly to create the 'frame' of each stamp. Then, I put art in the middle.
At present, I don't have copies of any of them. (I may find some as I go through old boxes of art supplies, etc., but that's unlikely.)
But hey, if those mailings brought people joy, they served their purpose.
This webpage features many of my early digitally-created artistamps. Many of them are clickable, opening printable images… of varying quality. (When I saved my first digital files, I didn't always understand things like resolution. So, some of them look and/or print better than others.)
Sunrise Series
This block of stamps features some of my sunrise paintings.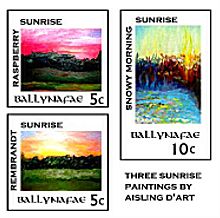 Tapestry Parade Series
This block of six stamps includes photos of Disney's EPCOT parade, Tapestry. The puppeteers include Disney cast member Jeremy Pace (in the lower left stamp). The link opens a PDF version of the stamps.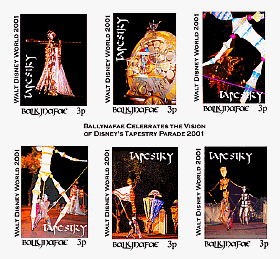 Disney World Tribute Series
This series features photos from Disney World. This set is not available in printable size.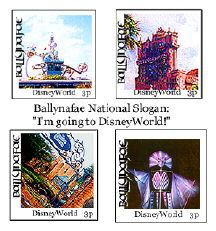 Ballynafae Mardi Gras – 2001 Series
Also not available in printable size, this series includes photos from the popular tourist attraction, 'South of the Border'.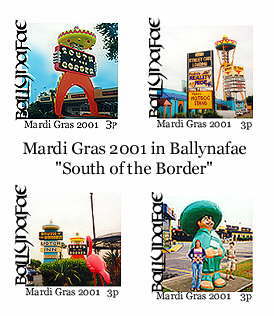 Kilmallock Ireland Series
Kilmallock is south of Limerick, Ireland, and it's one of my favorite towns in Ireland. Many of my ancestors came from this area.