[Note: I  may earn a commission if you purchase something I've linked to.]
The first time you try a zine layout, it can be confusing.
I've been creating zines for over 30 years, and I still sketch my zine layout on paper, to be sure I paste it up the right way.
Even if you're creating a zine on a single sheet of paper, the zine layout can be baffling… especially if you're highly dyslexic, as I am.
So others don't have to reinvent the wheel, I've put several zine layouts online.  Here are a couple of them:
If you're looking for the classic 16-page zine layout, using just one sheet of legal (8 1/2″ x 14″) paper, here's the link: Zine Layouts. (Yes, that creates a small, 16-page zine from just one sheet of paper, total.)
If you'd like to try a 24-page zine, or you're trying to figure out how to assemble a downloaded PDF of one of mine, here's that design.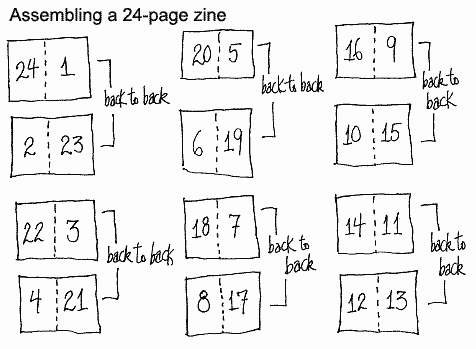 Basically, your first page and last page will be on the same sheet of paper, and on the exact same side of the paper.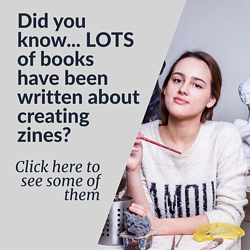 If you start with that and sketch it out, you can usually figure out which page goes where.
Zines aren't rocket surgery or brain science — as the sayings go — but wrapping your right-brain orientation around a left-brain concept can be challenging.  I know.  I still pause and ask myself, "Did I get this right…?"
The good news is, you can create your own zine.  And, with a little double-checking to be sure your zine layout is right, you can happily publish your zine on your home printer or at any copy shop.