The first time you try a zine layout, I know it can be confusing. And frustrating.
But I'm about to show you how to put your zine pages together so they're in the right order in the finished zine.
I've been creating zines for over 30 years, and I still sketch my zine layout on paper, to be sure I paste it up the right way.
So others don't have to reinvent the wheel, I've put several zine layouts online.  Here are a couple of them:
If you're looking for the classic 16-page zine layout, using just one sheet of legal (8 1/2″ x 14″) paper, here's the link: Zine Layouts. (Yes, that creates a small, 16-page zine from just one sheet of paper, total.)
The 24-Page Zine Layout
If you'd like to try a 24-page zine, or you're trying to figure out how to assemble a downloaded PDF of one of mine, here's that design.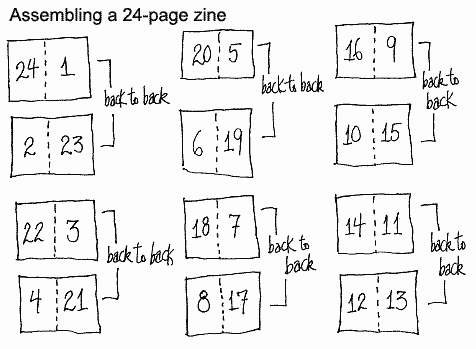 Basically, your first page and last page will be on the same sheet of paper, and on the exact same side of the paper.
If you start with that and sketch it out, you can usually figure out which page goes where. (Want a free zine you can download and print, to see how it works? Here it is: The 24-Hour Zine Thing Zine.)
The good news is, you can create your own zine.
And, with a little double-checking to be sure your zine layout is right, you can print and share it with confidence.
---
advertisement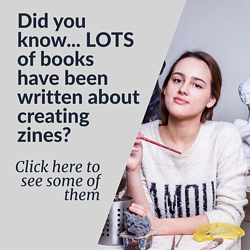 (That's an Amazon affiliate link that helps support this website, at no cost to you.)