Purchases made through my links help support this website, at no additional cost to you.  Details.
Aisling's notes: Sukie–also known as Ambermoggie–has been a friend of mine for several years, and I've admired her dolls and figures for even longer. I was delighted when she agreed to an interview, because I know how busy she is. One of these days, I hope to visit her studio in England.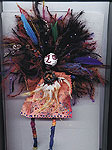 Q. Your dolls are wonderful! How would you describe what you do as a dollmaker?
A. I make elemental figures and goddess dolls primarily. However I'm always trying new ideas because it stops me getting bored.
Q. How did you get started as a dollmaker?
A. I've been making dolls for around 10 years, ever since my husband encouraged my "inner child" within to come out and play.
In my past, I had never been allowed to make things. So, it took me a long while to work up the courage to show the items I made to anyone.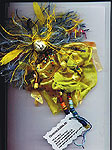 Then, my husband purchased a computer for me to take my mind off my health problems.
While browsing the Internet, I found forums on different crafts. I had never heard of rubberstamping until this. I asked questions and became interested in the idea of papercrafts, and I started to make rubberstamped cards and gifts. From rubberstamping, I went on to mixed media collages and embroideries, followed by freeform beading.
One dark winters unday I was reading Somerset Studio and saw the call for artwork and a story. I started to write a story and part way through had to stop and go ask my husband "How will I make this doll I want to make?" Between us we figured it out and my first elemental was born along with a story. It went to the magazine–and unfortunately wasn't printed–but that set me off on my elemental journey.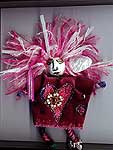 Q. What do you like best about being a dollmaker?
A. My favourite aspect of making them is waiting to see what they want to be. I can never make 2 alike and I never know which element I'm making until I start.
Q. Describe the creative process, when you're making your dolls and figures.
A. I make my framework and then the doll decides what colour it is. I like the spontaneity of this… It's an adventure! I do get ideas for other dolls and try to journal them. I then go back to them days or even weeks later, and see what I've written and what suggests itself.
I am not very good at drawing so I draw word pictures of what something will look like.
I also get a lot of ideas for stories and art as I am going to sleep. I used to find it hard to sit up and write them down. However my lovely husband gave me a dictaphone for Christmas which is ideal for those sudden inspirations at bedtime.