Purchases made through my links help support this website, at no additional cost to you.  Details.
These are free patterns for personal use. If you would like to feature them on your own website, you MUST include my copyright with the patterns. (In other words, be considerate. Please don't remove my copyright and claim you created the patterns, yourself.)
Also, these were designed to print on 8.5″ x 11″ paper. They're such old graphics, they may not be as sharp as I'd like. (I plan to replace them soon.)
If you'd like to reproduce these patterns for a class or workshop, that's fine as long as the copyright remains on them, and you don't charge anything extra for the patterns.
These patterns moved here from my (former) Wild Art Dolls website. If any links don't seem to work, let me know in a comment, below. Thanks!
Here are the patterns & links: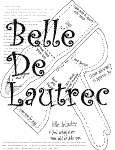 Belle de Lautrec and her zany sister, Tallulah Lautrec were created for a swap/round robin at the Yahoo group, Doll Journals.
The patterns and instructions are in PDF format.
You will need: Belle pattern pieces or the pattern for her sister, Tallulah.
Instructions for creating Belle and her clothing (5 pages).
Please read Belle de Lautrec and Tallulah – important reading, before you begin.
More free doll patterns
Each of the next two patterns open in a new window.
Neither of them have sewing instructions, yet.
Right-click on the link to save the pattern to your hard drive, for use later, or click the link and print from the screen.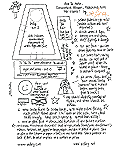 Dangerous Women – a free, online doll pattern Print it from your screen, and/or enlarge the pattern so the "one inch" line really is one inch. The doll in this website header, above, is made from this pattern, and I added optional wings.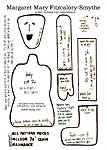 Margaret Mary Fitzcalory-Smythe – a free, online doll pattern with no directions yet.
She is a VERY skinny doll.  That was intentional.  I thought of her as a cautionary tale for those who willingly count calories to excess, and make themselves miserable in the process.
It was a time in my life when I was very skinny (it's a metabolism thing and it runs in my family), and people asked me how I did it.  I wondered what planet they were on, because I was doing my best to gain weight.
Some people have complained about how skinny the doll's appendages are.  Admittedly, they can be difficult to turn.  So,  you may want to enlarge her – or at least her arms & legs – by about 20% to make her more "average" sized.
RELATED FREEBIES
Paper doll faces, from my zany dolls in Art Doll Quarterly.
(You can adapt these as iron-on faces for cloth dolls, too.)