Purchases made through my links help support this website, at no additional cost to you.  Details.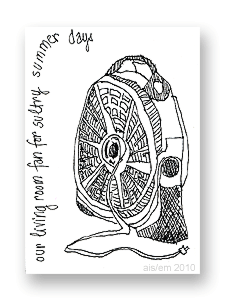 My second ATC in this series  of six shows our living room fan.  It's one of those huge grey fans that, on the high setting, blasts you like you're in a wind tunnel.
Drawing it was sort of a challenge.  I mean, there's a lot of detail and shading in the actual fan.  Deciding what to include and what to leave out… that was the challenge.
Scaling it down to ATC size was even more interesting.
There are things I might do differently if I were to draw it all over again, but — of course — this was just an ATC… a one-time sketch.  I'm generally pleased with it.
This ATC was drawing with a Size 0 (zero) Koh-i-Noor rapido technical drawing pen on regular paper in my sketchbook.
I started by drawing (in pencil) the 2.5″ x 3.5″ dimensions of a standard ATC.  Then, I began drawing with my pen.  There was no rough sketch to start with, just the outline of the card so I'd get the size right.
About five minutes later (maybe less), it was an ATC.
Pretty simple, huh?
These are super easy.  A good pen makes all the difference.  Sure, you could use any drawing pen, including a felt-tip (like a Sharpie) or a rollerball pen.
However, I think there's a different quality to more traditional pens, and I think it shows up in the finished artwork.
ATCs are like miniature works of art.  That makes the materials and workmanship more important, in a way.
(Don't let that scare you off; if the ATC doesn't look good, you can always put new/different art over it, or throw it out altogether.)
So, for this ATC and the others in this six-card series, I used a rapidograph with Koh-i-Noor's Ultradraw black India ink. (The ink comes with the pen.)
Right-click on the image to download a printable copy (at 150 dpi)  of this ATC.