Purchases made through my links help support this website, at no additional cost to you.  Details.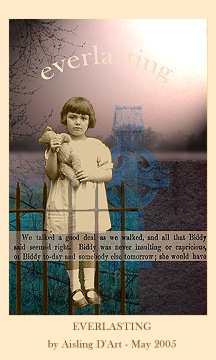 After a wonderful weekend in New Orleans, I was in the mood for a slightly eerie, somewhat nostalgic ATC.
The ATC image started with my photo from a Massachusetts park, taken early one April morning.
Next, I added a public domain photo of a little girl. I have no idea who she is, but she appealed to me for this particular card.
In front of her is some scanned text from Charles Dickens' novel, Great Expectations.
In back of her, just to her left, I added a Celtic cross photographed in Ireland, courtesy of pdphoto.org. I tried the cross in several places, and when it was slightly lower than the top of her head, it looked less ominous.
Finally, I added the word "everlasting" in Baskerville Old Face (font).
I tweaked the layers, did a lot with color and lighting effects, and finally resized the image so that it will print as a 3″ x 5″ ATC. (You can adjust the size on your own computer, if you'd prefer a smaller size.)
If you'd like to print this card at home, right-click on this link and save it to your hard drive. Then, print it at 150 pixels/inch.
The card is copyrighted, of course, but you can print it for your own use. After all, that's what swaps – even digital ones – are for!