Purchases made through my links help support this website, at no additional cost to you.  Details.
Note: This is the second part of a two-part article tracing the history of paper dolls.  See The History of Paper Dolls, part one to read the first part.
20th century paper dolls – A brief history


In the 20th century, other magazines followed this trend, including Ladies' Home Journal  (Sheila Young's "Lettie Lane"), Pictorial Review (Grace Drayton's "Dolly Dingle"), Good Housekeeping (Sheila Young's "Polly Pratt"), and the famous "Kewpie Dolls" by Rose O'Neill in Woman's Home Companion.
At right, Little MaryJane, one of the famous Hader paper dolls from Good Housekeeping magazine.
The most popular paper doll of the mid-20th century was probably Betsy McCall, created by Kay Morrissey. However, children also enjoyed paper dolls in many magazines of that era, including Jack and Jill Magazine, and Children's Playmate.
Since 1962, Barbie paper dolls have become the most popular among American children.
Paper art dolls, and fine art paper dolls – Where to find them now

Today's paper doll designers frequently have backgrounds in fine arts. Many of them work together as part of the Original Paper Doll Artists Guild, based in Kingfield, Maine.
Their collectible paper dolls often feature celebrities and fashions from history, and are intended for both adults and children.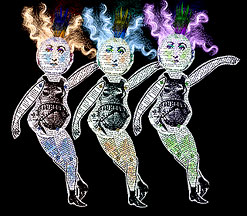 Paper dolls have been emerging for several years in the paper arts community, too. My own article (and pattern) in the Winter 2004 issue of Art Doll Quarterly is just one among many places to see examples of this emerging art form.
One of my designs is at right. The dolls were printed on vintage pages, and hinged with small, brass round-head paper fasteners.  The hair was tinted wool (designed as doll hair), accented with feathers.  Each doll was hand-colored.
Sometimes called "fine art paper dolls" and also "paper art dolls," even the name is still evolving.
Today's paper art dolls are sometimes drawn, painted or printed on paper. However, even more of them are one-of-a-kind, and more mixed media dolls than purely paper dolls.
For example, some artists swap hinged dolls on Artist Trading Cards (ATCs), and participate in exchanges and round robins involving paper art dolls.
This is a very exciting field, mixing a nostalgic love of dolls, with fresh and vibrant creative expressions.
References
(Note: This article was written around 2005.  These links may not be current.)