Purchases made through my links help support this website, at no additional cost to you.  Details.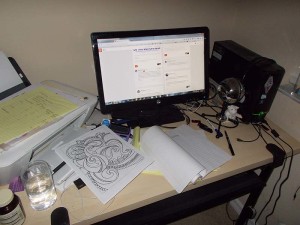 Following the lead by K. M. Weiland (http://www.kmweiland.com/all-the-super-important-stuff-on-this-writers-desk/) and encouraged by my friend Nanette Day  –  I'm sharing a completely un-staged photo of what's on my computer desk this morning.
(My current "art desk" is my bed. I have stacks of paper for drawing, plus a silverware drawer insert – $2 from IKEA, but you can find similar ones at Target, Walmart, etc. – filled with pens, pencils, paintbrushes, etc.)
Anyway, here's what's on my writing/computer desk and (at least partially) shown in the photo:
1. Computer (bearing a Honeydukes sticker from the Harry Potter shop at Universal Studios theme park), printer/scanner, and monitor.
2. One mic, plus one headset with its own mic.
3. Two pens, four thumb drives, a calculator, a portable hard drive, and a spare USB hub.
4. Two bottles of vits and a glass of water.
5. Lots of papers: My daily to-do notebook, and yellow, lined pad for notes. Notes from said yellow pad.
6. A printed page from my upcoming coloring book, still in progress.
7. Last but not least: A white mouse from IKEA.
(If you're just desperate to see everything in detail, click on the photo for the 800 x 600 pixels version.)
Since I'm incredibly busy right now, it's a minor miracle that my desk is this tidy.
I decided to post this since it's kind of in line with "Real Professional Qualities," my somewhat sarcastic article from Professional Quilter magazine, March 1986 issue.