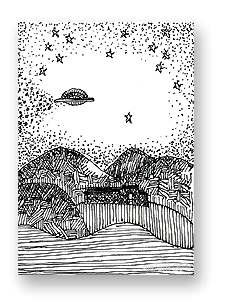 The subject of this pen & ink ATC is the Spalding Inn. I'm not entirely sure why that hotel fascinates me, but it does.
Oh, it helps that the hotel is currently owned by a couple of friends and their families.  In addition, my uncle and his wife used to vacation there.
But… I don't know.  It's more than that.
The Spalding seemed a logical subject for an ATC.  It's the final ATC in this series of six, and obviously the most detailed.  (The previous ATC, displaying a rose, led up to it.)
Though this country hotel has a few great ghost stories, it's not actually associated with UFOs.
The reason I put a flying saucer in this ATC is because the Spalding Inn is along the flight path described by America's first known alien abductees, Betty & Barney Hill… and I wanted something interesting in the sky.  (The design of the card is based on my fine art painting of the Spalding Inn, in progress.)
The Spalding Inn is located in Whitefield, New Hampshire.  It's near Mount Washington, and it's generally in a perfect location for exploring the White Mountains.
That also makes it a great location for any artist to set up an easel and paint from; from any spot on the hotel's property, there are amazing views in any direction… all year 'round.
(And yes, I'd say that even if I didn't know the owners.  You'll find me there — on sunny days and snowy days — whenever I need a break from everyday busyness, and want to clear my mind with clean air, natural beauty, and art.)
You can download a free, printable copy (at 150 dpi) of this Spalding Inn ATC by clicking on the image above, or by clicking here.
As an artist, author, Amazon Associate, and affiliate in other programs, I may earn royalties or commissions from qualifying purchases.  I never recommend anything I wouldn't buy myself, and - in most cases - I have bought/tried whatever-it-is.  And I liked it enough to recommend it. Also, Amazon and the Amazon logo are trademarks of Amazon.com, Inc, or its affiliates.