Purchases made through my links help support this website, at no additional cost to you.  Details.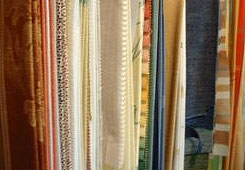 Before rushing out to buy supplies for your fabric art projects, consider a these important points.
Many fabric artists (including me) prefer 100% cotton for most
projects. The benefits are clear:
Cottons are durable. They don't "pill" or develop small little fiber balls on the surface.Cottons tear on a straight line. This saves tedious cutting. Clip at the start of where you'd like to tear the fabric, and then start ripping it. 100% cottons tear straight across the fabric. The better the grade of cotton, the cleaner the line.

Stains are easier to remove from cottons, partly because of the fiber, but also because you can safely launder cotton in very hot water. And, you can bleach white cottons; you should not use chlorine bleach on most polyester fabrics.

Colors are richer in many cottons, compared with their polyester counterparts.

Cotton is cooler in summer and warmer in winter, than polyester fabrics.
But, there are compelling reasons not to use 100% cotton in some cases, too:
You must preshrink cottons, even if the bolt says that the fabric was preshrunk.Cotton wrinkles. If your wearable art is intricate and difficult to iron, this can be a problem. In fact, if you don't like ironing or don't have time for it, your favorite wearables may end up being worn infrequently.

Cotton can fade. If you accidentally add bleach to a laundry load that included colors, the results can be disastrous. Likewise, if you leave a dark cotton in the sun, it will fade. Finally,
if you work with black or very dark cottons, use detergents designed for dark fabrics, to prevent fading.

Some image transfer processes work best on polyester blend fabrics.
In general, I use cottons unless there are compelling reasons to use polyesters.  In practical use, I'd guess that I use polyester fabrics less than 1/10 as often as I use 100% cottons.
On my fabric art shelves, I store the cottons separately from blends and polyster fabrics.   It's important never to confuse the two.
Choose the best fabric for each project, individually.  The purpose of each project will help you decide whether to use cotton or another fabric for your art.