Purchases made through my links help support this website, at no additional cost to you.  Details.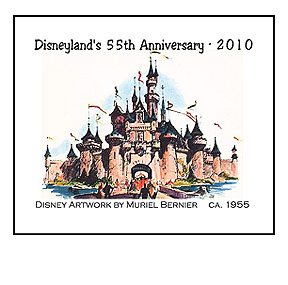 Disneyland is celebrating its 55th anniversary.  I'm commemorating it with an artistamp design featuring art by my mother, Muriel Joan Bernier (1919 – 2010).
The artwork at left, which was also on the Fantasyland board game, was based on my mother's art.
She freelanced for Disney in the 1950s. I remember her drawing lots & lots of versions of the castle, for Walt Disney and Parker Brothers (the game manufacturer) to approve.  Some versions were tall & skinny. Others were very broad and sturdy, like castles in England and Wales.
My mother's drawing style was distinctive. I'd recognize it anywhere. She'd start with very simple shapes — ovals, cylinders, squares, and circles — and then adjust the lines.
She did a lot with shading, to get the effects she wanted. She liked contrast in her work. (That wasn't always possible when she freelanced for Rust Craft, creating greeting cards & wrapping paper designs.)
The next photo shows the final version of the game artwork. (Yes, Bugs Bunny was among the characters entering the castle. I'm not sure if Mum did that deliberately, or if it was a whim of hers, just for fun.)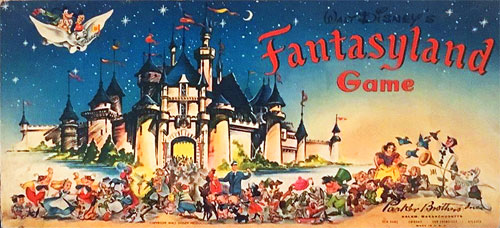 My mother passed away earlier this year, and — I'm not sure why — she didn't want me to post her artwork online.  (My mother's always been eccentric.  Once she decides something, she rarely changes her mind.  Questioning her was pointless.)
This, however, gets around that.  The images were already online… just not credited to her.
So, I created the artistamp at the top of this article, as a tribute.  Ordinarily, I add my artistamp postal name — Ballynafae — and a postage amount (usually 3p) to make my artistamps look more stamp-like.  In this case, it didn't seem right, so I added the basic text and here it is, as-is.
You can download it as a stamp-sized image (PDF), either with a stamp-like edge (as a graphic), or as shown above.