Purchases made through my links help support this website, at no additional cost to you.  Details.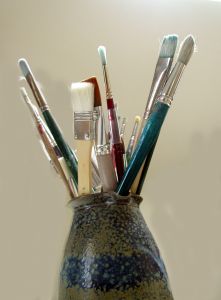 Paintbrushes are important for many artists.  I have lots of them for all purposes.
I use bristle-style brushes for my oil and acrylic painting. Also, I'll use soft, hair-type brushes when I'm painting with watercolors.
However, for me, one-inch foam brushes are most useful for art journaling.
How I use foam brushes
When I'm creating collages, especially torn-paper collages when I'm art journaling, I apply Yes!Paste with a foam brush. That's my favorite adhesive for magazine images, tissue paper, and so on.
If I'm using gel medium to seal my art journaling pages, I'll apply that with a foam brush, too.
I'll use a similar brush to add glittery paint and to apply gold leaf, too.
Also, I use foam brushes to apply cheap, vivid, cadmium red paint (acrylic) as an underpainting when I'm working on an art shrine (that I'll also paint) or a fine art painting.
I generally get at least three to five uses from each foam brush.  I wash them thoroughly and promptly after using them.
Some foam brushes are better than others
I used to buy my foam brushes at Michael's. Recently, to get the best price, I had to buy a package of assorted foam brushes.
That was a mistake. Some of the brush sizes were useless for my work. In addition, the quality wasn't great.
Now I buy brands that I trust, like US Art Supply's 1-inch brushes. And – for now – I order through Amazon. It's convenient. If a product is disappointing, it's easy to return it, but so far, these brushes have been fine and the price is very good.
Note: If you use the kind with wooden handles, the wood can be recycled in a variety of projects.  (For some of my cloth dolls, that handle is the perfect size to reinforce the doll's neck, as the wooden dowel will extend from the head through the neck and then into the torso.)