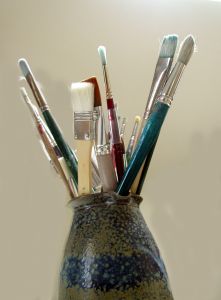 Paintbrushes are important for many artists.  I have jars & jars of them for all purposes.
Foam brushes are useful in almost every kind of art I create.
When I'm creating collages, especially torn-paper collages in my artist's journals, I apply the gel medium — as an adhesive as well as a sealer — with a foam brush.  (That same gel + foam brush works fine for applying glitter or metallic leafing to my art, too.)
I also use foam brushes to apply cheap, vivid, cadmium red paint (acrylic) as an underpainting when I'm working on an art shrine (that I'll also paint) or a fine art painting.
Stores such as Michaels, A. C. Moore, and Hobby Lobby often feature foam brushes on sale.  For example, from 16 – 22 January 2011, Michaels were selling 14 foam brushes for $1.
Check your local Michaels' weekly ad to see if the same sale is at your store.  (I don't know if this link will work for you, but I view their weekly ads at http://michaels.shoplocal.com/michaels/default.aspx?action=entryflash )
Two more notes: I generally get at least three to five uses from each foam brush.  I wash them thoroughly and promptly after using them.
And, if you use the kind with wooden handles, the wood can be recycled in a variety of projects.  (For some of my cloth dolls, that handle is the perfect size to reinforce the doll's neck, as the wooden dowel will extend from the head through the neck and then into the torso.)
As an artist, author, Amazon Associate, and affiliate in several programs, I may earn royalties or commissions from qualifying purchases. Those do not affect the price. Amazon and the Amazon logo are trademarks of Amazon.com, Inc, or its affiliates.