[Note: I  may earn a commission if you purchase something I've linked to.]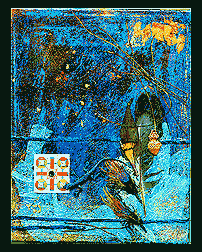 This is a collage to honor the music of Dr. John (aka Mac Rebbenack). It is the art for the Homage to Music card deck exchange hosted by Red Dog Scott.
(Click on the Homage to Dr. John image — at right — to see the 767 x 1006 pixel version. It opens in a new window.)
Dr. John is probably my favorite musician, since I first heard his music around 1970. On an early album, Gumbo, he described his sound as "a combination of Dixieland, Rock & Roll, and Funk." Add a little Mardi Gras and gris-gris, and you'll get the idea.
Not everyone understands his music; I do, and it inspires much of my art.
This collage was over a month in preparation.
I started with a stretched canvas that I'd painted metallic gold (spray paint).
Then, I began layering Burnt Sienna, Cobalt Blue, French Ultramarine Blue, and finally a black that I mixed using French Ultramarine and Burnt Umber.
Because I use oil paints for their depth of color, each layer had to dry for at least ten days. (In workshops, I use acrylics because the layers dry in minutes, not weeks.)
After the layers were dry, I began sanding them down for texture. I place a wooden block the size of the stretcher-bar opening, under the canvas so it is evenly supported.
I sanded down different amounts in different areas.
Then, I began the collage.
My first layer was tissue paper, crumpled and "painted on" with Golden brand Soft Gel Medium.
Next, I "painted on" a piece of antique lace. Over that, I glued three strips of teal chenille yarn.
For small pieces, I use the Golden Medium as glue; for larger pieces, I use hot glue.
Then, I added feathers. Some were gatherered at the beach, others were purchased.
Next, I coated the entire canvas with Golden Medium, and waited for it to dry until tacky. At that point, I began applying Gildenglitz. For the larger areas, I increased the adhesion with a double-sided tape.
Almost finished, I glued on a dollhouse Parcheesi board, a plastic lizard, and a heart milagros that I had sprayed gold and highlighted with Dr. Martin's calligraphy ink, in copper.
The final addition–when everything else had fully dried–was some highlights with Rub N Buf gold leaf, in antique gold.
This is the kind of piece you can expect to complete in my workshops that involve collages, and natural materials.
Generally, I like to work with rich & deep colors, gold leaf or glitter, and natural objects such as twigs, acorns, and feathers–natural materials, used flamboyantly.
This remains one of my favorite collages.
If you're not familiar with Dr. John…
https://www.youtube.com/watch?v=JESFMO1Hl4M