[Note: I  may earn a commission if you purchase something I've linked to.]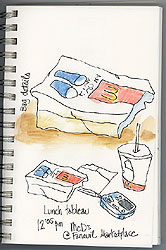 After considering various topics for my first/continuing zine issue, I've decided to make it about sketchcrawls.  (If you're not sure what a "sketchcrawl" is, visit Sketchcrawl.com or see my examples at this website.)
So, I'm looking for articles and sketch samples — in b&w, or color images that also look good in b&w — for this zine.  Every contributor selected for this issue will receive a free copy of the zine, in the mail.
Your article can…
Describe a sketchcrawl you've been on, with sample sketches.
Share art tips for a successful sketchcrawl (or travel journal), such as how to deal with wet media.
Offer ideas to make a full-day sketchcrawl fun, such as ways to avoid blisters or tiredness, what snacks to bring, and how to cope with crowds.
Articles should be a single 8.5″ x 11″ page, unless there's a really good reason to make it longer.  (Two pages are the max… ask me, first.)  If it's easier to make your page 8″ x 10″, that's okay, too.
The articles should be sent to me in PDF format.
The best way to do this is to write the article in DOC format, in Microsoft Word or in Open Office, or something like that.
Please use 1″ margins on all four sides of each page.  Use a standard font that came with your computer.  (If you're not sure what's "standard," use this list:  Common fonts…)  The font size should be between 10 and 14 pt, though the headline can be up to 18 pt.
Scans of your artwork should be at 300 dpi, but no less than 150 dpi, and they should be part of the PDF, not separate.
Be sure to include your name and your website URL (or Flickr account URL) on the page, so people can find you and your art, online.
Then, save it (or "print" it) as a PDF.
The first sketchcrawl of 2010 is February 27th… now you have another good reason to get out and sketch on that day!
My current plan is to publish this zine in March 2010.  February has sort of flown past me.  My mother — an artist and a lifelong inspiration for me — was rushed to the hospital earlier this month and — as I'm writing this — she's still in Intensive Care.
Though her odds of surviving her illness have nearly doubled in the past week, I'm still in anxiety mode, and everything's taking me longer than usual.
So, assuming that everything goes as planned (dangerous words, I know!), I'll need all of the art and articles by March 10th.
Send them to email at aisling dot net.
Questions?  Use the contact form linked at the top of this page.
[Note: I  may earn a commission if you purchase something I've linked to.]