Saving Images for Your Collage Art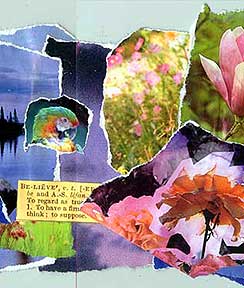 Saving collage photos, papers and ephemera… it's always a challenge. But, I've found a system that works well for me. It might help you, too.
Step One: Sort collage elements by themes
I save my collage elements — especially magazine photos — by color, in manila folders. I start with the major color groups (red, blue, green, etc.) and then expand (lime green, turquoise, etc.) as my collection of saved images becomes too large for anything simpler.
I include all kinds of papers in my folders. So, when I want something blue, I open my "blue" folder and I'll see my primarily blue magazine images, but also blue tissue paper, maybe some bits of blue ribbons or fabrics that I intend to use in collage, and so on.
Of course, my collages are usually more color-driven than image-driven, per se. So, organizing by color makes sense to me. (If you're not familiar with my torn-paper collages, you'll see many of them online at Aisling.net.)
For someone else, it might make more sense to organize by other themes, instead of (or in addition to) by colors.
Your categories might be "faces" or even more specifically, "women's smiling faces," etc. Or, "dark-looking castles," "cute cottages," "kissing," "fast cars," "vintage images," or whatever.
Step Two: Store the folders in a big portfolio
All of my manila folders are stored in one large, flat old-fashioned artist's portfolio thingie. You know, those huge black folders made from heavy cardboard, covered with a black, textured surface, and they tie at the top and sides with cotton tabs.
(Collaging the outside of that big portfolio is optional.)
You may prefer a portfolio that's easier to carry and comes in a color. But, any good, big portfolio will work fine.
In my studio, my portfolio fits nicely on top of my chest of drawers that holds my fabric art and mixed media supplies, like my iron, fusible webbing, frequently-used fabrics like muslin, etc. (It's a small chest of drawers that fits underneath my sewing table. So, the big collage bits folder is pretty much hidden unless I'm looking for it.)
You can also hide the folder under a bed, behind a door, between or in back of bookcases, and so on.
I've tried many organizing systems for my stacks of wonderful papers and collage images. This has worked the best for me.
As an artist, author, Amazon Associate, and affiliate in several programs, I may earn royalties or commissions from qualifying purchases. Those do not affect the price. Amazon and the Amazon logo are trademarks of Amazon.com, Inc, or its affiliates.