Purchases made through my links help support this website, at no additional cost to you.  Details.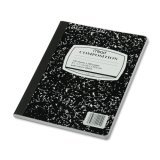 A composition book art journal is any journal that's kept in a composition book. Those are generally school-type, saddle-sewn (along the crease) notebooks with cardboard covers… similar to exam/test booklets, but a little more permanent.
Composition books are inexpensive, so many people like them especially for informal journaling. It feels less intimidating to use a journal that doesn't cost much, and is familiar from our years in school.
They're so affordable, you can buy several. Put one in your car, one in the baby bag, one by your bed, and so on. Then, you're ready to create a journal page when you have some free time. The journals are so inexpensive, you can rip completed pages out and bind them into your more formal artist's journal.
("Binding" the loose page can be as easy as taping it into your other journal. Or, you can glue it, sew it, staple it, etc.)
Composition books have lots of lined pages in them… as many as 100. They come in a variety of sizes, but the traditional ones are about 8″ x 10″ or so. The traditional ones often have a b&w cover that looks sort of marbelized.
You can also find composition books with red covers, plain manila covers, green covers, and so on. You may want to choose one with a color that reminds you of your childhood. (But, the color may not matter if you're going to cover it with art anyway.)
Also, it's easy to embellish the cardboard covers. I'd still use something (such as fusible interfacing) on the back so that threads don't pull through, but you can sew through the cardboard with a crewel needle. Then, you can embroider on it, add beads & buttons, etc., in addition to other embellishments.
(For more about sewing on your journal pages and covers, see Sewing on Journal Pages.)