Purchases made through my links help support this website, at no additional cost to you.  Details.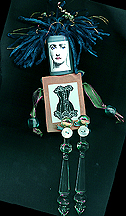 "Teal Magic" was the name of the first series of art/assemblage dolls I made, back in 2000. That's when I met other dollmakers online and joined swaps.
That's my doll, at right.
The art doll ingredients
The body was a simple wooden block, painted with copper-colored paint.
I photocopied a corset and hand colored it, and then glued that image onto the block, to represent her torso.
I added small, wired wings at her back. They were turquoise, stamped designs printed on rice paper.
Her head was a translucent white 35mm film canister, with a paper (printed & hand-colored) face attached.
Her hair sprung out of the film canister.   The hair was yarn, embroidery floss, and some wires with beads attached.
The arms were sparkly ribbon with glass beads for hands.
The legs were made from vintage, plastic "crystals" (probably from a lamp or chandelier) and antique buttons covered where they were attached to the body.
I made six of these art dolls.
I kept one and sent the rest to the swap.
At the time, one of my SoHo chatroom friends (from GeoCities) joked that I'd named the dolls after him.  His surname (in real life) is Teale.
I'm still very proud of those art dolls.  At the time, no one else was making anything like them.


Here's what I'd said at the time of the swap, and posted at my GeoCities (Soho/6708) website:
The theme of this exchange was simply "Art Fetish Doll," and the only guideline was for the doll to be less than six inches tall (to make shipping easier).
We could send up to six dolls, and receive different ones in return, one less than we sent. (I sent five, so I'll receive four back.)
I started with an empty plastic film canister, and a bagful of old plastic Christmas ornaments that look like cut glass from a chandelier.
My first step was to find a Victorian face image, to tweak and then reduce to collage onto the film canister. I used a Dover clipart book for this.
Next, I decided to make her body from the wooden blocks I'd recently purchased at eBay, for my unmounted rubber stamps.
Big mistake. The hardwood of the blocks was nearly impenetrable, and I had to insert four small screw eyes, two for her arms and two for her legs. It took forever! *grin and shrug*
My next step was to drive to Harvard Square (Cambridge, Massachusetts) to find the perfect beads for her hands. I already had the pink-and-green sheer & iridescent silk ribbon for her arms.
I bought heavy blue glass beads, which look like beach glass from old Coke bottles.
Then I shopped at a seedy local flea market for o-l-d magazines, to find the perfect corset image, to tweak, print, accent by hand, and then glue to each copper-painted wood block. This represented her torso.
Her hair–which is NOT accurately represented in the photo–is actually a deep, juicy teal color. Think of the most remarkable teal you've ever seen on a duck. That's the color of the chenille yarn I used for her hair.
I separated the strands of some copper-colored (metallic) embroidery floss, and wove some of them through the teal yarn/hair, too.
Finally, in her hair, I have copper wires, intricately twisted and looped, with pearls strung on them. There are three of these wires in the hair of each doll.
The hair has been packed into the film canister and held in place with hot glue, so the hair seems to spill out, dreadlock-style.
Her legs are the plastic "crystal" chandelier-style pieces, with holes drilled in them. I used the hole in each leg to attach an antique mother-of-pearl button to the front of the leg, and tie light teal-colored embroidery floss through the button and the crystal. Each leg was then loosely attached at a screw eye on the front of the block.
When she sits on the edge of a desk or table, her legs swing down in front of her.
On her back, I placed wings. I stamped a dragonfly-style wing design with turquoise ink, on rice paper. I cut out two of these pieces for each doll: a front and back of the wings. Inside, like a sandwich, I inserted a very thin brass wire, and glued the layers together.
I attached the wings to the back of the copper-painted block, using a small carpet tack. Finally, I painted the carpet tack white (to match the white, rice paper edges of the wings) and bent the wings a bit, so they look realistic.
Five of these dolls were sent to this exchange, early in July.