Purchases made through my links help support this website, at no additional cost to you.  Details.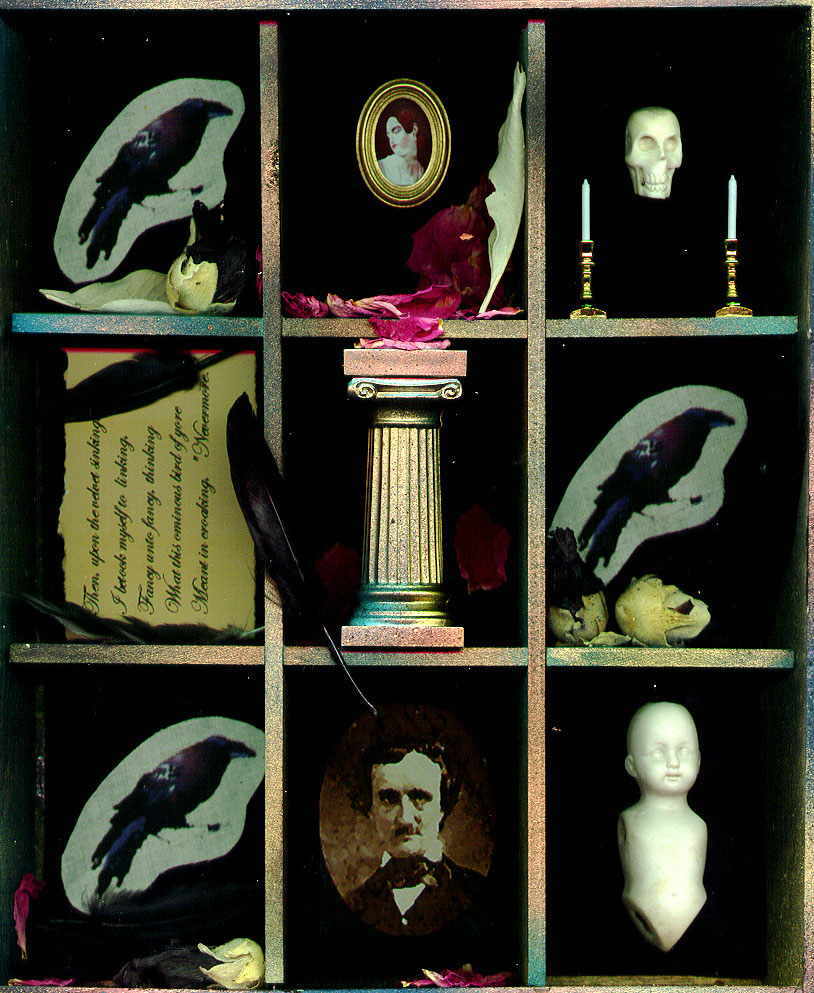 The Edgar Allan Poe Art Shrine is one of my favorite assemblages.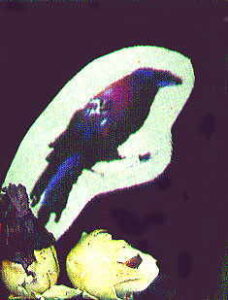 The elements include a raven printed on muslin, in three sections.
I found him in a Dover book, and added color in PhotoShop (Image-> Adjust-> Saturation).
Then, I printed him on some iron-on tee shirt transfer paper that works in inkjet printers.
I repeated the design several times on the paper, and then ironed the raven onto plain muslin, which I later cut to size. The edges were treated with Fray Check, a Dritz sewing product that prevents unravelling.
Black feathers and dried Black Malva flowers, plus dried wild rose petals, accent these compartments.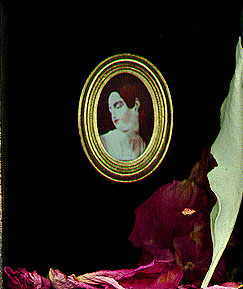 The portrait in the gold oval frame is Virginia, Poe's great love.
I found her portrait in an old biography of Edgar Allan Poe, and copied it.
I printed it with sepia brown ink, on my inkjet printer.
The frame is a dollhouse decor frame.
In front of her rest dried wild rose petals, gathered at the seashore. I usually collect them at the park at Cape Neddick "Nubble" Lighthouse, in York, Maine, just over the border from New Hampshire.
(More info about "the Nubble" – Cape Neddick Lighthouse [offsite link]).
A leaf of dried sage is to the right of the portrait. Traditionally, in addition to sage's popularity in cooking – it's used in turkey stuffing/dressing – it also signifies healing. It's also supposed to be an aphrodisiac.
According to Poe's biography, he never recovered from the death of his wife. So, the healing quality of sage is most appropriate.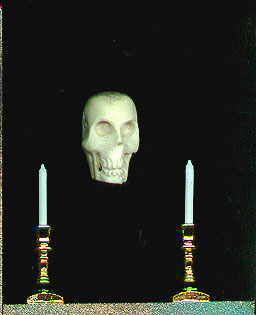 In the section to the right of her, there is a skull which was hand-carved from a deer's antler. I found it at a flea market in Hollis, NH.
That dealer sells all kinds of weird and wonderful antique and reproduction beads and trinkets. He had only a few of these, and while it felt creepy buying one, it also seemed the right kind of creepy for this shrine.
In front of the skull are brass-colored metal candlesticks and dollhouse candles (probably plastic). I really like including dollhouse items in my shrines, especially if they look reasonably accurate. They can be pricey, but I find the best deals at crafts supply shops; these came from A.C. Moore in Nashua, NH.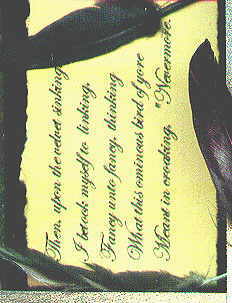 In the center section, the lines of poetry are from The Raven.
The scan quality isn't very good in this copy, so here's what the lines say:
Then, upon the velvet sinking
I betook myself to linking,
Fancy unto fancy, thinking
What this ominous bird of yore
Meant in croaking, "Nevermore."
Next, a golden and teal-colored pillar represents Poe's famous Fall of the House of Usher.
In the bottom row, the center image shows a photo of Poe, taken from his biography. I've modified this so it looks somewhat pointillist, and a little eerie.
At the far right is a limbless china doll's body. I'm not certain why I included it, but it adds to the Gothic sensibility of the piece. It also came from the flea market in Hollis, NH.
The outside of the wooden shrine was painted black. On the back, I glued a title card and signed the piece.
The shrine is about 8 3/4 inches wide, and about 10 1/4 inches tall. It was completed in late September 2000, and immediately purchased by a happy collector.