Purchases made through my links help support this website, at no additional cost to you.  Details.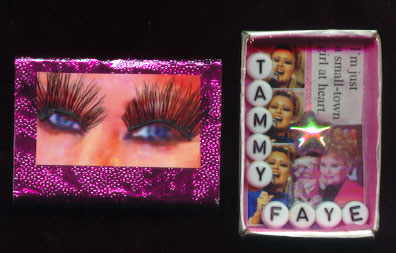 Shrine to the goddess of mascara,
Tammy Faye Bakker Messner
Tammy Faye Bakker Messner (March 7, 1942 – July 20, 2007) remains a goddess* today as she was during her brief time with us.
Her continuing optimism was a beacon for all of us. Her sincerity was almost as remarkable as her mascara — or were those false eyelashes…or both?
When I began working with art shrines, I had to make at least one shrine to her.
And, when I had reason to create sample "pocket shrines," it was clear that one had to be to Tammy Faye. Few women have achieved such distinction in modern society. She was a legend in her own time, and success never spoiled her.
Inside the shrine, I've posted one of my favorite quotes from Tammy: "I'm just a small-town girl at heart."  (How could anyone not fall in love with someone that sweet and naive?)
How-to:
The box is a plain matchbox, bought at a scrapbooking store in Massachusetts.
If you can't find blank matchboxes, discount stores and smoke shops carry inexpensive (full) matchboxes.  Empty them and cover them with art.
I lined the matchbox with a glitzy, irridescent pink fabric that I bought at the local JoAnn Fabrics.
The beads which spell dear Tammy's name came from crafts shops, and the little star bead from a bead shop in Harvard Square (Cambridge, MA).
The photos of Tammy are from several websites, all featuring the readily-available images of our goddess.
The outside of the matchbox is covered with a thin foil, which I got from Gayle Page-Robak.
I cut out a photo of Tammy to feature her remarkable blue eyes. The eyelashes are false, bought for $2.74 at WalMart. They're the closest that I could find, to the "official" false eyelashes given to lucky members of the audience at the premiere of "The Eyes of Tammy Faye."
(I have since acquired two sets of the official false eyelashes from the movie premiere.)
I glued the eyelashes, beads and fabric in place with Perfect Paper Adhesive. Everything else was glued with Rollataq, but any paper adhesive would work fine.
And, I've been enormously flattered by the many requests, but this piece is not for sale.
*With all due respect to those who take the term "goddess" seriously, I'm being flippant when I use that word in this context.